Wyclef Jean 'Appalled' by Police Officers Over Handcuffing Incident
Celebrity
| |
Advertisement
According to TMZ, the former Fugees star and two female passengers were pulled over by Los Angeles County Sheriff deputies in West Hollywood around 1:30 a.m. local time because his vehicle matched the description of a car used in an army robbery around the same time and place. The singer was also reportedly wearing a red bandana, which allegedly matched the suspect's description. The news outlet reported Wyclef was handcuffed because he allegedly reached towards his waistband while talking to the deputies, that he was in the restraints for around six minutes and the Grammy award-winning musician was released once deputies realized they had the wrong person. He has since taken to social media to blast the behavior of the police and to give his own account of the incident.
Why am I in Handcuffs!!!!!????? This is what I said to the LAPD after they put me in Handcuffs… https://t.co/accbcWuAYe

— Wyclef Jean (@wyclef) March 21, 2017
"I was instantly hand cuffed before being asked to identify myself and before being told why," he wrote. "In the process I said my name and told them they have wrong person. They proceeded to ignore me and I was treated like a criminal. "I am sure no father wants his sons or daughters to see him in Handcuffs especially if he is innocent. As some one who has law enforcers in my family, I was appalled by the bahavior of the LAPD (sic)."
LAPD another case of mistaken identity. Black man with red bandana robbed a gas station as I was in the studio working but im in handcuffs? pic.twitter.com/vjRfJUkooA

— Wyclef Jean (@wyclef) March 21, 2017
The real suspect was reportedly suspect apprehended the same evening.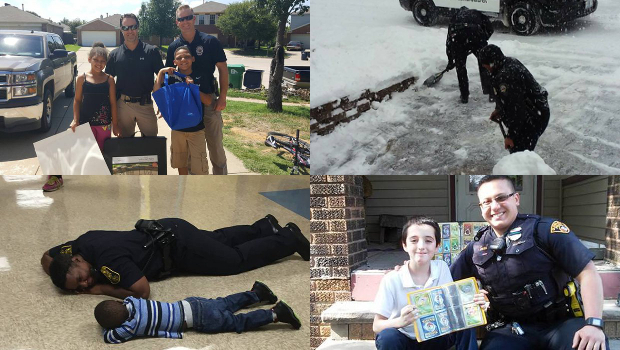 The Best Acts of Kindness and Heroism by Police Officers
The year 2016 was certainly filled with mass unrest regarding the people's faith in the nation's men and women in blue, but there are plenty of good cops out there who want to make America great again with real action — and it truly shows. While some police officers went above and…
click here to read more
Advertisement
Wyclef Jean has blasted police authorities for their "appalling" behavior after they reportedly handcuffed him thinking he was an armed robbery suspect on Tuesday. The "Perfect Gentleman" singer shared footage on Twitter in the early hours of Tuesday morning which showed him in handcuffs besides a police car and claimed it was a case of "mistaken identity" and he had done "absolutely nothing".