Woman Told She Can't Wear 'Cultural Head Scarf' to Work Responds in the Best Way Possible
Advertisement
"So my boss didn't like me wearing my hair in A ponytail every day. 'Unprofessional' nor my hair in A scarf 'Unprofessional' Nor my hair in pigtails. 'Unprofessional' so I filed a harassment complaint against her as our contract states 'No dress code. Just be clean and pressed (
sic
).'" The harassment complaint went unnoticed, though. Even worse, her boss issued a new dress code to all employees. "To counter, she issued a brand new memo. We now have a dress code. No (
sic
) any of above plus no straps, hats, sandals, cleavage, back out, lace, and even (and I quote) cultural head wraps," she wrote. "Uhh… yeah. (
sic
) Lawsuit much." Rivas reported her to the U.S. Equal Employment Opportunity Commission, but while she waits, decided to come into work in a different outfit each day "that fits the guidelines she laid out…just…not (
sic
) QUITE the way she expected." Rivas showed up in different cosplays each day. Check them out below! Rivas wrote in a comment: "What pisses her off more is coworkers (
sic
) coming to take pics." Her post has been shared over 20,000 times (as of press) and it doesn't seem like Rivas will be giving in anytime soon.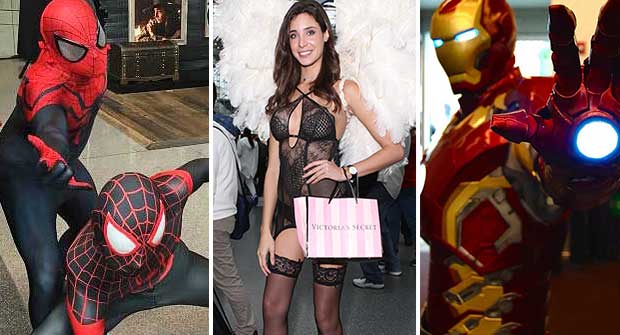 Fans Turn Heroes: The Very Best Cosplay From New York Comic Con 2016
New York Comic Con has come and gone and as every year, comics, TV, video game, and fans of everything nerd culture turn the metropolis figuratively into their very own Gotham, Hell's Kitchen, or, we guess, Metropolis. As always, these fans ramp up their excitement to "11" with finely detailed and spot-on…
click here to read more
Advertisement
It may seem pretty obvious in today's day and age that different people have different body types, hair, and wear different clothes depending in their cultural or religious affiliations, and that it's pretty discriminatory to require someone to change to fit your personal ideal. Unfortunately, some people don't understand this and still try to fit every human being into one mold. Take, for example, June Rivas' boss. For some reason, Rivas kept being reprimanded for wearing her hair in a ponytail and a scarf. Aside from her hair, Rivas always wore suits and heels to work. She penned a viral Facebook post that has since been made private about her experience.