This Woman Boxed Well Into Her Pregnancy and It Helped
Lifestyle
| |
Advertisement
Exercising while pregnant is highly recommended by experts, including for
pregnant female athletes
. This Australian fitness buff took that advice to the extreme by boxing her way throughout her pregnancy up until her due date. Vicky Sim — who gave birth to baby boy Zane on May 18 — was eight months pregnant, but her bulging belly didn't stop her from pounding the boxing bag and staying fit. The social media darling has over
92,000 followers on Instagram
. She shared her growing baby bulge while boxing in this video that received almost 7,000 views. "Why does this always feel so good ?￰
@boxingfit_portmelb People are so quick to judge others that do there best to stay fit and healthy during pregnancy ? I have continued to train under my obstetricians guidance and I have had the healthiest and easiest pregnancy ever. That's the truth!" she wrote.
Sims — who owns a gym
Boxing Fit
with her partner in Melbourne — told
Australia Daily Mail
that exercise was key to keeping fit and healthy while she was pregnant. "
The reality is that sometimes you might not feel up to exercising
, pregnant or not, but you need to push through those days and not give up. You will always feel better after some form of exercise," she said.
The American Congress of Obstetrics and Gynecology recommends 30 minutes or more of moderate exercise per day
, unless you have a medical or pregnancy complication. Sim trained for 30 minutes a day, five days a week. Sim also mixed up her routine with body weight training. "I mix it up using kettle bells, weights, medicine balls, body weight exercises and machines. Exercise has always been my go to, I just love how it makes me feel,'' she told
Australia Daily Mail
. She also kept her weight gain at 24 pounds. This was slightly below the recommended weight gain during pregnancy of 25 to 50 pounds. "It would have been
hard for me to stop exercising
during my pregnancy but luckily there was no reason for me to do so and I was able to continue boxing throughout," she told
U.K. Mirror
. Vicky Sim learned to listen to her own body when she worked out while pregnant. "There is so much you get told about what pregnancy is like," Vicky Sim told
Daily Mail.
"You get really sick, you put on so much weight, you get cravings, you can't stop eating, you're super tired, you can't exercise, you get stretchmarks – it's just so negative. I'm a strong believer that if you have a healthy mind, healthy body and healthy attitude, you give yourself the best chance of having a more positive pregnancy. I hope I'm the prime example of that."
Vicky Sim Keeps Boxing While Pregnant
The best result of Sim's sweating it out for eight months was baby boy Zane. He weighed in at eight pounds, seven ounces. "Our beautiful boy Zane has arrived," Vicky Sim wrote on Instagram, "He was born Thursday morning, weighing a very healthy 3.95 kgs. We are so overwhelmed with joy and love for him. Everyone talks about the love you have for your child, but you honestly don't understand it until you experience it for yourself, words just don't do it justice. The love I have for my beautiful boy is understandable. Life does not get better than this. He is the best thing I have ever done."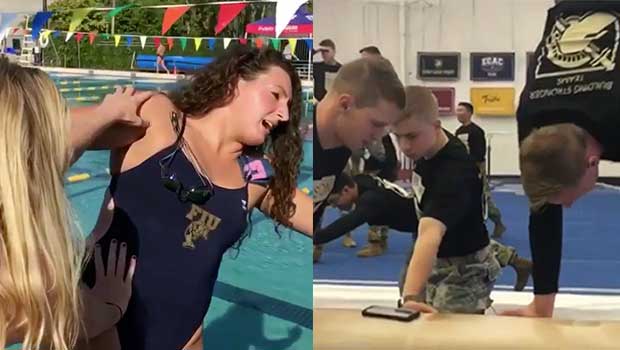 #MannequinChallenge Sweeps the Internet and Good Lawd Prepare to Be Amazed
Joining in a long line of noteworthy internet crazes - like the Ice Bucket Challenge, planking, or dog shaming - 2016 will likely go down as the year of the "#MannequinChallenge." What is that, you ask? Well, by most accounts it's a video of individuals freezing/posing in strange positions. As…
click here to read more
Advertisement