Trump Jr.'s Comparison of Syrian Refugees to Skittles Causes Controversy
Advertisement
This image says it all. Let's end the politically correct agenda that doesn't put America first. #trump2016 pic.twitter.com/9fHwog7ssN

— Donald Trump Jr. (@DonaldJTrumpJr) September 19, 2016
The image continues a familiar theme of the Trump campaign, with an emphasis on curbing "dangerous" immigration to the United States. This is despite the fact that a
recent report
from the Cato Institute think-tank found that, "the chance of an American being murdered in a terrorist attack caused by a refugee is 1 in 3.64 billion per year." Reaction to the tweet came quickly, with many deriding the odd metaphor choice as mathematically inaccurate and disrespectful to human life.
That last RT from @DonaldJTrumpJr shows you the moronic anti-immigrant fear mongering the Trumps love. Immigrants are not coming to kill us.

— Touré (@Toure) September 19, 2016
@DonaldJTrumpJr This is the equivalent of a red Skittle in your analogy. pic.twitter.com/NKvD5V07tE

— Chris Jackson (@ChrisCJackson) September 19, 2016
This image says it all. In 1939 900 Jews on ship fm Nazi Germany to USA were sent back. 25% died in Holocaust. Not skittles @DonaldJTrumpJr pic.twitter.com/vbvQMFYquF

— Malcolm Nance (@MalcolmNance) September 20, 2016
Other users pointed out that the tweet was remarkably similar to an anti-Islam image that was being shared across numerous white supremacist Twitter accounts earlier in the day.
Interesting tweet from junior, especially given that a bunch of Trump's white supremacist supporters have been passing around this today… pic.twitter.com/YQY6w0As8i

— Parker Molloy (@ParkerMolloy) September 20, 2016
Wrigley, the company who produces Skittles, released a
statement
regarding the tweet:
"Skittles are candy. Refugees are people. We don't feel it's an appropriate analogy. We will respectfully refrain from further commentary as anything we say could be misinterpreted as marketing."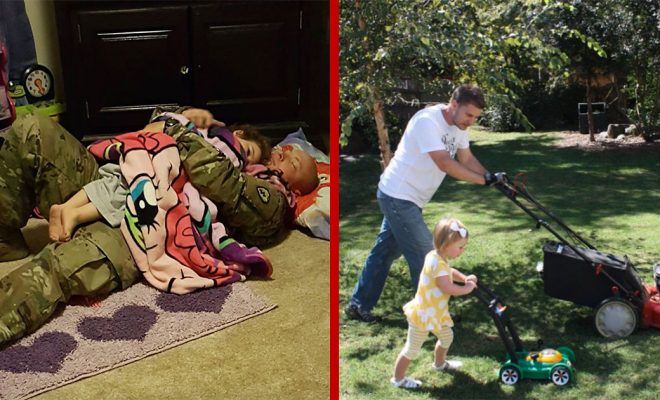 13 Dads Who Remind Us What Parenting Is All About
Being a dad is like having a full time job. As a parent, you have to be ready at all times to make sure that your child is happy and healthy. A few dad compare "dad work" to being a babysitter — but it is not — it's called being a parent.…
click here to read more
Advertisement
When it comes to the Trump family tree, the apple doesn't fall far when it comes to courting social media controversy. On Monday night, the Republican nominee's son, Donald Trump Jr., tweeted out a graphic that compared incoming Syrian refuges to poisoned Skittles.