Taylor Swift Dismissed From Jury Duty
Advertisement
when your dad has jury duty with taylor swift … pic.twitter.com/9dAqklemiN

— anna clare (@annaclare15) August 29, 2016
The excited members of the jury tweeted out the pictures, with one, Tracy Bates, writing: "#TaylorSwift is on Jury Duty with me… Happy to take selfies with us all." Bates also shared a photo of a sweet signed message the singer wrote for her, stating, "So nice to meet you," and video footage of a fresh-faced Swift smiling and laughing as another juror told her how important her music was to her children. However, Swift won't have to return to court to continue her civic duty after telling officials she would not be able to remain impartial in an aggravated rape and kidnapping case, as she is currently involved in her own litigation involving an alleged sexual assault incident. She was promptly dismissed from jury duty, reports TMZ.
Taylor had jury duty in Nashville today. She was dismissed as a potential juror by the end of the day. pic.twitter.com/9XRrL3b8D3

— Taylor Swift Updates (@TSwiftOnTour) August 29, 2016
The case the pop star was referring to relates to a 2013 incident in Colorado, where local radio host David Mueller was accused of groping the singer's buttocks during a concert meet and greet session. Mueller is suing the star, claiming he was falsely accused and lost his job at Denver's KYGO station as a result. The 26-year-old singer countersued for sexual assault and battery in October, insisting she is telling the truth. Her jury service may explain why Swift was a no-show at the MTV Video Music Awards in New York on Sunday night.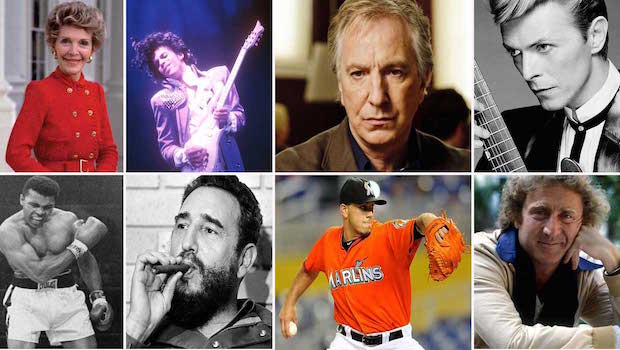 Notable Celebrity Deaths of 2016
While death is a natural part of life, it seems like 2016 has seen an abnormally high amount of notable deaths. From politicians and athletes to actors and musicians, it wouldn't be a stretch to say that this year has seen some of the most famous individuals on the planet…
click here to read more
Advertisement
Taylor Swift has been dismissed from jury duty in Nashville, Tennessee after insisting she cannot be impartial in a rape case. The singer had her day in court on Monday when she showed up for what could be a long trial, and agreed to pose for selfies with other prospective jurors.