Stranger Pays Petrol Bill for Man in Need
Advertisement
Enter a kind stranger who without any hesitation saw a fellow man in need and paid his $83.00 bill. Crawley was left stunned by the random act of kindness and took to Facebook asking his friends to pass it on. His wish was granted with hundreds of comments and shares on his Facebook page. Crawley wrote, "I was at the service station, filled up my ute (vehicle) with diesel, filled up my Jerry can (fuel container) with petrol (gas), rolled into the shop, grabbed a couple of dare ice coffees, of course, and went to pay for them. Last night I had transferred all my money into a new bank account, which once I got to the register I realised (
sic
) I didn't have my new bank card on me. I tried using one that had a joint account to it but I could not for the life of me remember my PIN number!" Crawley told the stranger he'd repay him and asked the mystery man for his phone number, but all he replied was, "It's fine, it's a free world, isn't it? I can help a brother out, can't I?" Instead the good samaritan wrote just his name, "John," on the receipt with the simple message, "Pass it on." And then he was gone. During the brief exchange, Crawley managed a selfie with "John" which was posted on Facebook. And like Prince Charming searching for the beauty behind the glass slipper, the post inspired a nationwide search for the kind stranger. He's since been identified as former Newcastle North Stars ice hockey player, John Kennedy Jr., a defenseman from Canberra Knights imported to Newcastle. Originally from Saginaw, Michigan he moved his family to Australia to play in the country's national league in 2012 and became a local sports hero. Crawley has made the media rounds where he spoke to Prime 7 News about finally finding his savior who told him, "We'll catch up for a beer next time he's in Albury." Kennedy, Jr. humbly messaged
Mashable
that he didn't expect all the "hype" from his kind act. He wrote, "I saw a brother in need and just wanted to help. Tyson asked me to write my number down and I didn't want him to return the money, I just thought 'pass it on' as in pass on 'something good'. (
sic
) At the end of the day we are all just people and no matter how big or small the deed as long as it's good, pass it on." Crawley has had the opportunity to message Kennedy, Jr. thanking him for his kindness and courage to "put himself on the line for another person." His take-away from the experience, "We need to remember to be beautiful and kind to one another, (
sic
) positivity is an immense power in this world that no one can deny." And he's already paid it forward – to another person at the same petrol station.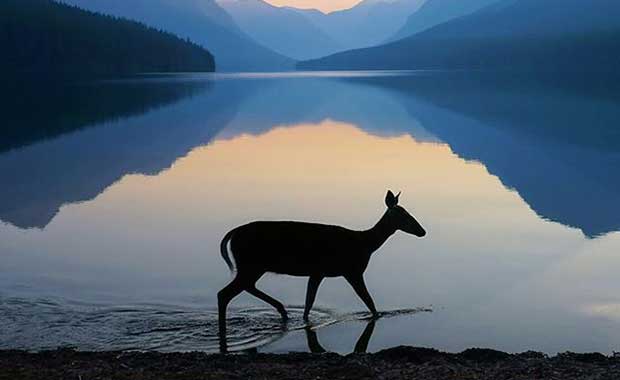 U.S. Department of the Interior Dominates Instagram With Stunning Photography
If you aren't following the U.S. Department of the Interior on Instagram, you should immediately! To say that their pictures are breathtaking would be an understatement. Their Instagram conveniently connects us with nature and reminds us how truly stunning our environment is. Here's a look at some of our favorites!
click here to read more
Advertisement
Have you ever had one of those days where you rush out of the house and forget your wallet? Then the embarrassment kicks in when you have to buy something and you realize you're penniless. Tyson Crawley (left in the above picture) from Albury, Australia had that type of start to his weekend when on the morning of Friday, September 23 he discovered he didn't have his proper bank card after filling his car with gas.