Escaped Slaughterhouse Cows Corralled by Cops for Sale on GoFundMe
Advertisement
In St. Louis, Missouri, six cows escaped certain steak fate from a slaughterhouse — that is — until police and animal control corralled them. This was the first escape attempt from Star Packing Company — a slaughter and processing facility that has been
specializing in the production of Halal beef, veal, lamb and goat for over 40 years
. Prompted by human error, the bovine escape occurred at approximately 1:30 p.m. on March 30
when a handler neglected to latch the holding pen
. Cattle owner Omar Hamdan told television station KTVI in St. Louis, "One of the employees just left the gate open without knowledge. He was trying to clean up the pens and left one of the gates of the holding pens open. I guess they just got out." The heifers were not to be taken without a fight. They wreaked havoc as they were chased through the city's streets by the St. Louis Missouri Police Department. The cops worked with Animal Control and the Humane Society, who brought in portable fences to corral and contain them. Police cars were veering the cattle like they were in a rodeo. One cow refused to be captured — busting through an iron fence meant to contain it — at the Little Sisters of the Poor in St. Louis. It led police on more than a mile-long chase —
only to be caught two hours later
. The St. Louis Police Department tweeted, "
Working w/ Animal Control & Humane Society to corral six cows loose from packing house in North #STL. One cow contained at this time."
They also posted this video of their cow chase.
Working w/ Animal Control & Humane Society to corral six cows loose from packing house in North #STL. One cow contained at this time. pic.twitter.com/TYAG6wbjJU

— St. Louis, MO Police (@SLMPD) March 30, 2017
After spending over four hours rounding up the cattle, they accepted defeat and reluctantly entered the trailer transport. It is not uncommon for cows to break free from a slaughterhouse. Some animal rights activists
believe they are sensing their imminent death
. It seems the Star Packing Company cows have mooed their way into the hearts of social media by prompting a
GoFundMe account called "Save Chico and Friends"
to rustle up some dough to buy the animals' freedom. The campaign's $10,000 goal has already been surpassed.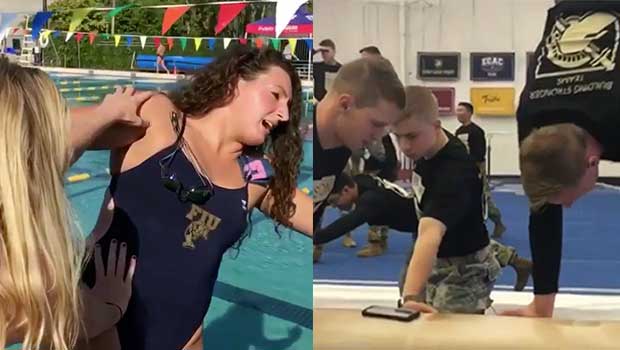 #MannequinChallenge Sweeps the Internet and Good Lawd Prepare to Be Amazed
Joining in a long line of noteworthy internet crazes - like the Ice Bucket Challenge, planking, or dog shaming - 2016 will likely go down as the year of the "#MannequinChallenge." What is that, you ask? Well, by most accounts it's a video of individuals freezing/posing in strange positions. As…
click here to read more
Advertisement