This Nursing Home Took in a Stray Cat and Gave Her a Home and a Permanent Job
Advertisement
Meet Oreo, a stray cat bringing joy to the people at St. Augustine Health Ministries in Cleveland, Ohio.
About five years ago, the black and white cat started visiting the area outside of the nursing home and would return every single day. The staff then welcomed the cat inside, giving her a brand new home and a new day job playing with the residents. "
She's like the family here.
She helps the residents, she helps the employees, and we just love her," Carmen Delgado, a receptionist at St. Augustine Health Ministries, told Cleveland.com. St. Augustine Health Ministries provides care to about 200 people. Many of the residents are just older patients who need assistance, while several of them are recovering from stokes and brain injuries. The residents of the nursing home love having Oreo around to play with. Some of the residents even carry around pictures of Oreo so they can show off the little kitty. "Most of the people we serve here had pets… so to have Oreo here, for them to be able to come out and pet the cat and see how the cat is doing… it brings a lot of laughter, smiles, those feelings of home," Dana Carns, director of advancement, said to Cleveland.com. Oreo has brought so much joy to the residents and visitors of the nursing home. The cats joins them while they wait and welcomes them when they come in at reception. "
Residents, staff and the children from our early learning center,
look for Oreo. She is most often the greeter," Carns told The Huffington Post. Oreo provides such a great sense of love and entertainment for the elderly residents. "She's such a character. The residents see her and pet her all the time. Even the visitors get a big kick out of her. She's a good cat," security guard Tim Fredmonsky told Cleveland.com. Having Oreo around benefits everyone, including the feline herself. "I'm not sure if Oreo was in need of us, or we were in need of Oreo," Carns said to The Huffington Post. "But she's a great addition to our family."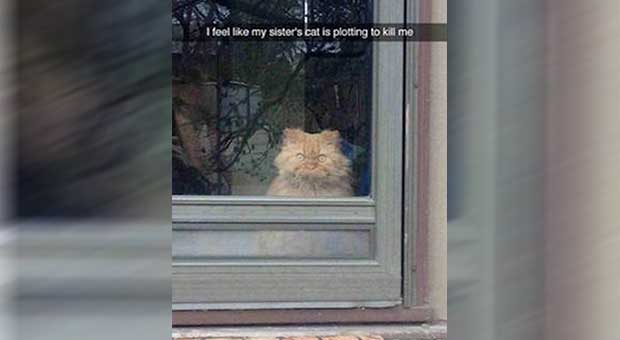 These Hilarious Snapchats of Pets Will Leave You in Stitches
Taking photos of animals, specifically pets, in funny poses has been a staple of photography since personal cameras were introduced. Now thanks to social sharing apps like Snapchat, it's easier than ever to share these images with the larger world. So it's our pleasure to present some hilarious images of…
click here to read more
Advertisement