Sharon and Ozzy Osbourne Back Together for Cozy Stroll
Entertainment
| |
Advertisement
At the time, the music manager and TV personality admitted she was unsure about divorcing her husband of 33 years. "I honestly, at this point, today, have no idea what I'm going to be doing with the rest of my life," Sharon Osbourne confessed during an emotional appearance on
The Talk.
The stars are rumored to have tried to work on repairing their fractured relationship in recent weeks, and now, judging by new photos of the pair over the weekend, it seems they are giving their marriage another go. They were snapped enjoying a quiet outing in Los Angeles, where Sharon Osbourne, 63, was pictured smiling widely. It's the first time the couple has been seen out together in a non-professional capacity in weeks after their marriage troubles became public. Sharon Osbourne had previously been spotted grinning as she watched Ozzy Osbourne and his Black Sabbath bandmates onstage at Britain's Download festival in June. The latest images, obtained by TMZ, emerge after sources revealed therapy sessions had helped Ozzy Osbourne and Sharon Osbourne save their romance. "They've fallen in love again," the insider added to
Us Magazine
. Another source had previously told
Closer
magazine Sharon Osbourne was trying to forgive her man so they could move past the incident. "Sharon is angry and hurt, but Ozzy is begging her not to leave him and the family is falling apart," the source said. "They are talking daily and she still thinks there may be a chance they can save the marriage, but she's told friends it's a constant battle." Sharon Osbourne and Ozzy Osbourne, 67, tied the knot in 1982. They share three adult children together.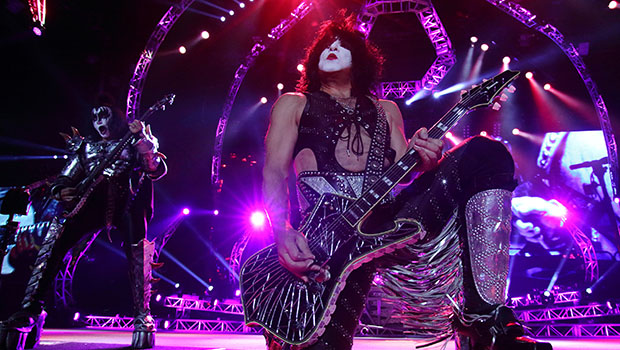 20 Richest Rock Stars
Fame and fortune, the two are inseparable. Rock stars like Ringo Starr or Gene Simmons prove that you can't have one without the other. Whether they are driving luxury Porsches or residing in New York City penthouses, these music celebrities have big wallets — and also big hearts — when it comes…
click here to read more
Advertisement
Ozzy Osbourne and his wife Sharon appear to be back on good terms after they were photographed smiling during a stroll in Los Angeles. The couple hit headlines in May amid allegations of Ozzy Osbourne's infidelity, and Sharon Osbourne later confirmed she had kicked the rocker out of their marital home, before deciding to move out herself.