Rita Ora was Distracted by Live Doves During Prince Studio Session
Entertainment
| |
Advertisement
She says, "Obviously, being from London, I thought it was either Prince or (Prince) Harry, either one, I'm not picky, I'll take either, or! And it was Prince…!" The pair bonded during their first meeting over a game of ping pong in London, and Ora then flew out to visit the reclusive musician at his estate in Minneapolis, Minnesota in 2014 to work on a track for his next album, and she reveals she was in awe of the whole experience. She recalls, "We went to Minneapolis, Paisley Park. Walked in (and) it was literally like a Prince museum: ornaments, the motorbike from Purple Rain (movie)… And then he has doves in there…! It was surreal. It was a whole week of just surreal music-ness juice." However, Ora confesses the doves were a strange distraction during the studio session. She continues, "It was so funny though, because I just kept hearing (doves cooing) and I'm like, 'These doves are really making noises! Everyone looks at them like they're angelic and gorgeous and there's just doves in the studio. I just found it really amazing." The tune the two stars recorded together is expected to feature on Prince's upcoming album HitNRun, which will be released exclusively on Jay Z's music streaming service Tidal from September 7, 2015.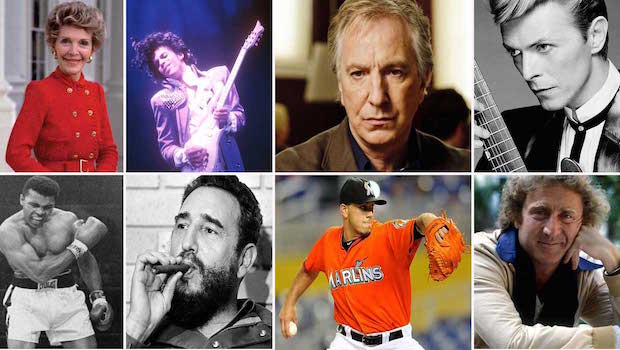 Notable Celebrity Deaths of 2016
While death is a natural part of life, it seems like 2016 has seen an abnormally high amount of notable deaths. From politicians and athletes to actors and musicians, it wouldn't be a stretch to say that this year has seen some of the most famous individuals on the planet…
click here to read more
Advertisement
Rita Ora admits she was stunned to receive an invitation to collaborate with Prince, although she didn't quite believe the Purple Rain icon was on the other end of the call when she first answered the phone.