Retired Cop and Schoolteacher Team Up to Rescue Baby From Hot Car
Advertisement
The duo called 911, then quickly got to work attempting to get the child out of the car. After they found no one in the lot had a tire iron, Eckel remembered that he had a sledgehammer (pictured) in his truck. He used it to shatter the window, and got the baby out. The two cooled down the child with water until paramedics arrived. Eckel told the
NY Daily News,
"There's no doubt in my mind the baby would be dead if we didn't do what we did." Mazzone was appreciative of his presence, telling the paper, "I am just thankful that I heard the baby crying, and that Steve was there with his sledgehammer." The child's mother, who reportedly was gone as long as 40 minutes, was charged with child endangerment when she eventually returned to the car with her other children. For his part, Eckel believes that he and Mazzone were in the right place at the right time for a reason. "I believe in guardian angels," said Eckel. "I really believe in this day in age, Sara and I were definitely this baby's guardian angels."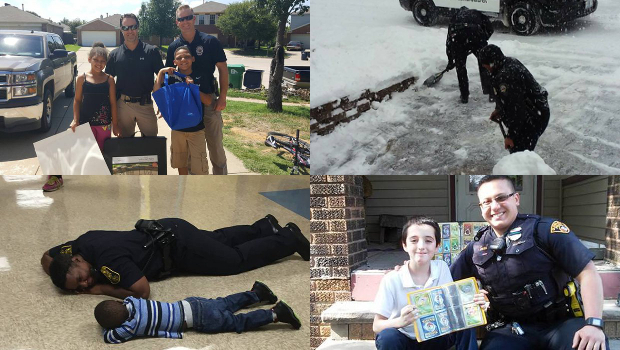 The Best Acts of Kindness and Heroism by Police Officers
The year 2016 was certainly filled with mass unrest regarding the people's faith in the nation's men and women in blue, but there are plenty of good cops out there who want to make America great again with real action — and it truly shows. While some police officers went above and…
click here to read more
Advertisement
A retired New Jersey cop and a schoolteacher became heroes this week when they rescued a 4-month-old girl from a locked car with the help of a sledgehammer. Steve Eckel, a 53-year-old retired Middlesex County Police Officer was walking through the parking lot of the Howell Shopping Center when he heard schoolteacher Sara Mazzone scream. The 30-year-old teacher had noticed a young child struggling inside a locked vehicle.