Paul McCartney Wanted to Keep Kanye Collaboration Top Secret
Music
| |
Advertisement
"The only deal I made with Kanye was that if it doesn't work, we won't tell anyone," he tells
Rolling Stone
magazine. "I didn't know his system. I'd heard things like, 'He's got a room full of guys working on riffs, and he walks around going, 'I like that one.' It reminded me of Andy Warhol; these artists who use students to paint their backgrounds and things. It's a well-used technique. I thought, 'I don't know how I'm going to fit into that, but let's see. Here goes nothing.'" But McCartney quickly became a fan when West took a piece of music the former Beatles star composed back in 1969 and turned it into a complete song. "I whistled it for him," he recalls. "His engineer was recording it, and it went into the pool of ingredients. Kanye was just collecting things. We weren't going to sit down and write a song so much as talk and spark ideas off each other. It was only when I got this song ("All Day"), the Rihanna record ("FourFiveSeconds") and "Only One," the three tracks we did, that I went, 'I get it. He's taken my little whistle-y thing.' It returned to me as an urban hip-hop riff. I love that record." But he wouldn't go so far as to call West a musical genius, adding, "I don't throw that word around. I think he's a great artist. Take
My Beautiful Dark Twisted Fantasy
. I played it when I was cooking, and it was like, 'This is good. There's some really innovative stuff.'"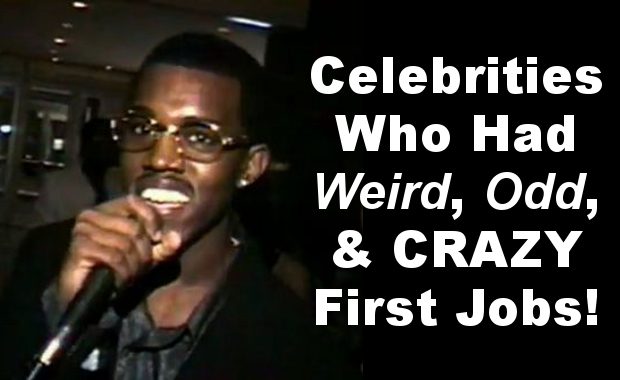 Celebrities Who Had Weird, Odd, And Crazy First Jobs!
If you know anything about acting and the cutthroat world of auditions before finally hitting it big in Hollywood, you know it isn't easy. Many of the most famous names in Hollywood and from around the world didn't just head on over to L.A. and La-De-Da lickety-split, they were starring in…
click here to read more
Advertisement
Paul McCartney made Kanye West promise to keep their 2015 collaboration under wraps – just in case it was a disaster. The odd couple teamed up to record "FourFiveSeconds," which became a huge hit, and two other tracks, but the Brit admits he wasn't entirely sure a project with the rapper would work.