Born Without Front Legs, This Adorable Pooch Got a Second Chance Thanks To Vets and a Foster Family
Advertisement
But luckily for Nubby, Lou Robinson — founder of animal rescue group "Warriors Educate About Rescue" (W.E.A.R.) — and her husband Mark received a call that would give this adorable pup his much-needed lifeline. "From the start, he had a will and what we felt like the soul to live," Robinson told WENN. "He progressed as any normal puppy but lacking limbs; Mark and I researched everything we could find in caring for a missing limbs canine within hours of birth of life. "All babies need their mothers', animal or human, it is what spurs them on to live; nobody wakes up in the morning and says to themselves, I wish a missing limb 6-hour old puppy would come this way, that would be cool. But Nubby was here and he needed help. "We initially had no expectations we could get him through as a neonatal disabled baby." Proving to indeed be a warrior, Nubby, with the care and dedication of his foster mom and dad, began to not only survive, but thrive. "Day three came and went, day seven, day 10, day 16 and Nubby thrived — he thrived! "Our pack filled in the dog love and dog care, the nudging, the licking, the warmth… together at Hillcrest Manor a true miracle in our eyes was taking place. His eyes opened, his ears developed, he found his sounds, smells and voice…his teeth were developing. Nubby did not know he was disabled, Nubby did not realize he was different." But things began to change one Friday afternoon when the Robinsons noticed that Nubby had taken a turn for the worse. "He was sneezing, he was not pooping, he was not hungry, he blew milk bubbles out his nose… we knew something was wrong." Nubby was immediately rushed to the vet who confirmed that the puppy not only had pneumonia, but also an "esophageal abnormality." "It can be quick for a puppy not 4 weeks of age and less than 3 pounds." Despite trying to remain positive, an X-ray also revealed that Nubby had a pocket form in his esophageal that was trapping his milk. This was contributing to his aspiration. Accurately assessing the problem was difficult due to his underdeveloped front limbs. It was difficult to get a clear view from the X-ray. "I cannot say enough for FM1488 Animal Hospital (our normal vet) the Doctors and staff," Robinson said. "They quickly said, you need to take the next step, we need to get you to critical care; they kicked it in high gear, referrals, paperwork, doctor's notes, phone calls to make the best choice. Mark and I pulled into NHVS at 7pm on Monday night where they were ready and waiting… within minutes, before we even signed in, Nubby was rushed into critical care where heavy IV antibiotics were pushed, and with the help of an oxygen chamber, Nubby was pinking back up…he was not giving up. He was fighting and as long as he has a chance at quality of life, we will fight to give him that chance." The future for Nubby is currently unknown, but back home with his foster family he appears to be doing well. He is eating again and not burping or blowing bubbles out his nose. "He has found his voice again and is complaining," Robinson continued. At seven weeks, Nubby can be sedated and his limbs moved out of the way for a clear X-ray picture of his esophagus. Only then will a clearer idea of his prognosis be made. But everyone involved in Nubby's care is hoping that the pup's defect will have vanished. "If it is gone or no longer present, then Nubby will become another normal puppy dog, except a bit more special." Of course, all this treatment has come at a cost, but the Robinsons are determined to keep fighting for this courageous pup as long as he has a chance at a good quality life. Anyone wanting to donate to help Nubby can do so by visiting
this link
. As for Nubby, he is taking life one day at a time and enjoying his favorite pastime — snuggling with dad!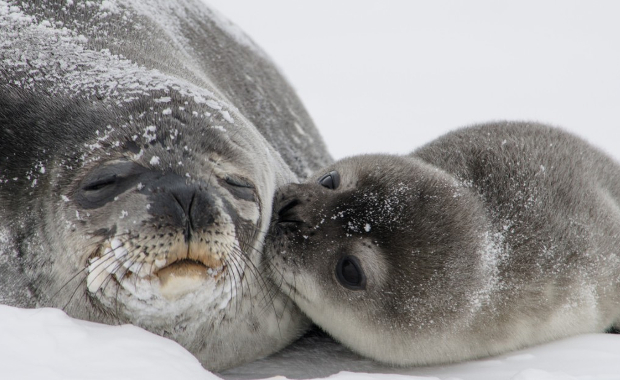 These Animals With Their Babies Will Melt Your Heart
There is something so precious about watching an animal mom or dad care for their young ones. Sometimes it seems as if animals deal with the same parenthood tribulations as humans, which makes watching their interactions all the more "aww" worthy. Some animals hold on to their young for as long…
click here to read more
Advertisement
It's the kind of story that makes you truly believe in the kindness of mankind at a time when we are perhaps losing faith. Meet Nubby — the runt of the litter that was unlikely to survive — his siblings were constantly pushing him out of the way of his mother, and vets feared he would perish.