Miley Cyrus' Mom Slams Rehab Rumors
Celebrity
| |
Advertisement
However, Miley's mom insists there is no truth to the claims, telling Eonline.com the allegations are "absolutely bogus" and "complete BS." The "Wrecking Ball" singer has made no attempt to hide her love of marijuana on social media or onstage, and even landed MTV bosses in trouble with critics with her many pot references during her stint as host of the Video Music Awards last month. During the event, the singer cracked lots of jokes about her love of weed, sang about it in her finale song "Dooo It!" and even appeared in a skit with her grandma, in which fellow stoner Snoop Dogg turned into a pig to help her through "a heavy trip." Campaigners at anti-smoking organization The Truth Initiative, who sponsored ads about the dangers of tobacco use during the telecast, made it clear they were not happy, while the show also upset members of watchdog organization the Parents Television Council. President Tim Winter said, "What they're (MTV) basically doing is telling everyone, especially kids… that marijuana use is nothing to eschew."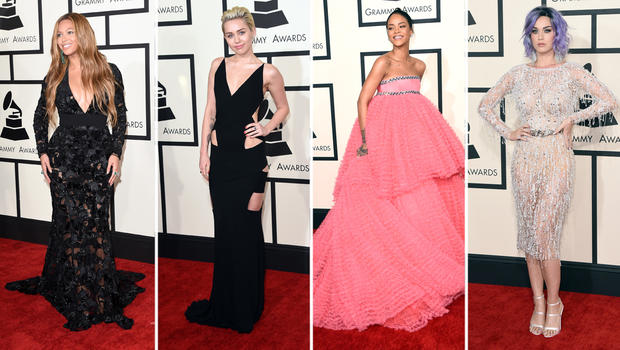 Must-See 2015 Grammy Awards Red Carpet Looks
The 2016 Grammy Awards will be held on February 15th and there is much anticipation to see what the biggest artists will be wearing. In the midst of award season, here is a recap of the must-see looks from the 2015 Grammy Awards!
click here to read more
Advertisement
Miley Cyrus' mother has taken aim at "bogus" tabloid rumors suggesting she has called on her daughter's exes Liam Hemsworth and Patrick Schwarzenegger to convince the pop star to seek help in rehab. Reports suggest Tish Cyrus is so worried about the pot-loving singer's drug use, she has been reaching out to Miley's ex-fiance Hemsworth and her last boyfriend, Schwarzenegger, and urging them to "talk some sense" into the 22-year-old to enroll in a 30-day treatment program.