Instructor Teaches Lesson in Martial Arts and Masculinity in Heartwarming Video
Advertisement
Wilson, the founder of
The Cave of Adullam
in Detroit, an institution that teaches a hybrid form of Martial Arts and meditation called Musar Ru, recently was recorded dealing with a situation where a young boy was brought to tears. Bruce, a 9-year-old student, found himself crying when he couldn't punch through a piece of wood after multiple attempts. Check out what happened: Bruce begins to cry after another failed attempt, at which point Wilson pauses the lesson, gets down on one knee, and begins to get through to the boy. His words and actions have caused this video to go viral, racking up nearly a million views and counting. "That's what this is about son. It's okay to cry," Wilson says in the video. "Why are you crying though son?" Wilson wants Bruce to realize the reasoning behind his emotions, and as such, be able to conquer them and move forward. It is Wilson's belief that boys and men can and should cry "like a man," and be able to handle any obstacle in their way after understanding and digesting their emotions. Bruce listens intently, and is finally able to break through the board. The video ends with Bruce's own father being trained by Wilson, a moving example of father and son learning together. "What we are witnessing is a generation of boys who were fathered by men who were given by their fathers a false sense of masculinity,"
he said
. "It's imperative that we, the men and fathers of this generation, do not allow our boys to grow up the way many of us did." Let's hope Wilson and his school of teaching continue to grow and spread their message.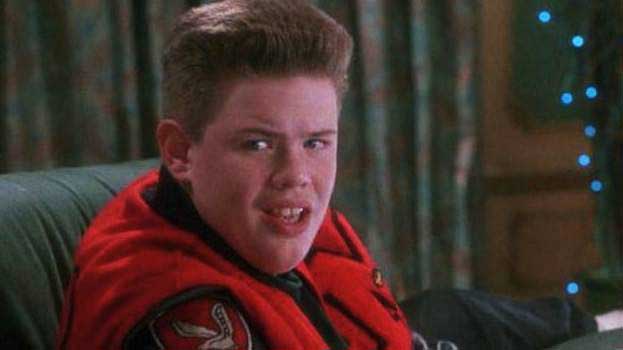 Your Favorite On-Screen Bullies - Where Are They Now?
These dudes and dudettes of the silver screen have stuffed you into lockers for years in your dreams. But where are they now? Has life treated them like they'd like to be treated? Have the ravages of time left them feeling like they've been getting swirlies in the toilet bowl…
click here to read more
Advertisement
Sports, for all intents and purposes, has always been somewhat of a "Boys Club." And the saying "boys don't cry" goes hand in hand with that. Crying, or the physical manifestation of any kind of emotion in boys and young men has always been known as an example of how not to be masculine, or worse, always been attributed to feminine traits. Jason Wilson understands the flaws in this school of thinking.