Marilyn Monroe's 'Happy Birthday' Gown Up for Sale
Advertisement
Her breathless version of the song has become world famous, as has the beaded gown she wore for the occasion. The stunning flesh-colored Jean Louis dress, which was so tight Monroe had to be sewn into it, is expected to raise between $2 million and $3 million when it is put up for sale by Julien's Auctions in Los Angeles on November 17. Less than three months after Monroe performed "Happy Birthday," she died at age 36, following an overdose of sleeping pills. The dress was first bought at a Christie's auction 17 years ago by late businessman Martin Zweig, who was so protective of the gown that he kept it in a climate-controlled display case in his penthouse at New York's Pierre Hotel. "[This dress is] not only Hollywood, but political and historical," Julien's Auctions president Darren Julien told the
Associated Press
. "She called it skin and beads." "[And because the dress was] was sewn on Marilyn Monroe, Zweig had it professionally mounted on a mannequin. It's never been off it, and is immaculately preserved." The gown is now being sold by Zweig's estate, as part of a collection of 1,300 pieces of Monroe memorabilia going up for sale by Julien's. Among other items up for grabs is the black sequined dress Monroe wore in 1959 movie
Some Like It Hot
. "This is the last auction of its kind. When she died, Marilyn Monroe left everything to Lee Strasberg," Julien explained. "We have the final of his estate items as they relate to Marilyn Monroe. It's literally going to be the last opportunity to ever experience a Marilyn Monroe auction like this again." Prior to the auction in November, Monroe's "Happy Birthday" dress will be on display at Mana Contemporary in Jersey City, New Jersey, from September 25 to October 22, before traveling out of America for the first time to be exhibited at the Museum of Style Icons in Newbridge, Ireland, from October 29 to November 6.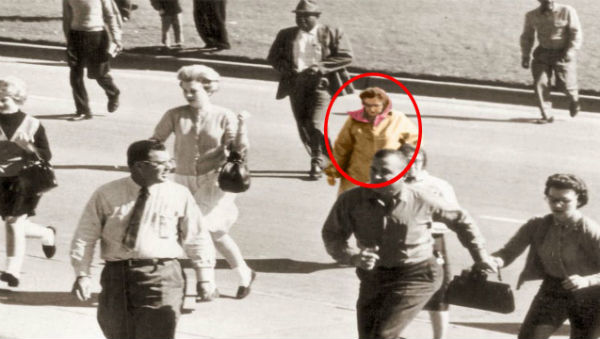 Rare Photos of Fascinating People Through History
In today's digital age, it's easy to forget that snapping and sharing a picture was not so long ago a laborious process. And back in the day of processing and developing film, it was much easier for an image to be lost, forgotten, or simply overlooked. Even when the image…
click here to read more
Advertisement
Marilyn Monroe's "Happy Birthday" dress is going up for auction in November. The blonde bombshell sang the tune to President John F. Kennedy at a celebration of his 45th birthday held at Madison Square Garden in New York on May 19, 1962.