Manhunt Underway as Weekend Terror Attacks Leave Nation on Edge
Advertisement
Update: According to multiple reports, Ahmad Khan Rahami was taken into custody shortly before noon on Monday after a shootout with police. Rahami was reportedly shot by police before being captured. Original story appears below.
On Monday, police have identified a suspect they believe is connected to the bombing incidents that took place in New York and New Jersey that injured dozens. The FBI has
identified
Ahmad Khan Rahami, a 28-year-old U.S. citizen with Afghan descent as a suspect in the New York City blast in the Chelsea neighborhood that harmed 29 people. The explosive device was placed inside a dumpster and went off at approximately 8:30 p.m. Saturday evening. A second device was found blocks away from the first, but had failed to detonate. Earlier on Saturday, a garbage can exploded near the starting point of a charity Marine Corps race in Seaside Park, NJ. The explosion did not injure anyone as the race had been delayed. Then on Sunday night, a police robot exploded another device found near the Elizabeth, NJ train station. No injuries were reported in that incident, but the backpack that contained the device had several other devices within, according to
reports
.
#BREAKING video shows moment bomb robot accidentally detonated device found @ Elizabeth NJ train station. @PIX11News pic.twitter.com/xfO97F2ebm

— Anthony DiLorenzo (@ADiLorenzoTV) September 19, 2016
Police believe Rahami is in video surveillance footage near the Chelsea bombing rolling a duffel bag, and is wanted for questioning. Rahami's last known address is in Elizabeth, NJ where the other explosive devices were found Sunday night. CNN describes Rahami as five feet, six inches tall and weighing approximately 200 lbs. He has brown hair and brown eyes.
New York
magazine
reported
that five people in connection with the bombings have been taken into FBI custody during a traffic stop in Brooklyn, but so far nobody has been charged. Officials believe all of these events in New York and New Jersey are related, but are not connected to a third domestic terrorist attack that happened in the Midwest on Saturday. A normal busy night at the Crossroads Mall in St. Cloud, MN turned chaotic when a man stabbed nine people before an off-duty police officer fatally shot him. The man has been identified as Dahir A. Adan, a 22-year-old who attended college in St. Cloud and worked for a private security firm. After the attack, the ISIS-linked Amaq News Agency claimed responsibility for the attack and praised Adan as a "soldier of the Islamic state." Amaq claimed responsibility for the attacks that took place in Europe, according to CNN, but there has been no verification that he actually carried out the attacks. Jason Falconer, the off-duty cop who shot and killed Adan, is being praised as a "hero" on Monday. "His heroic actions are exemplary of having witnessed what he did as the suspect was lunging at him with a knife," Kleis said. "Not only did he fire, the suspect went down, came back up on three different occasions. He protected others from being injured and potentially loss of life. Clearly, a hero." Members of the Somali-American community hope the attack does not strain relations in the Minnesota area – or elsewhere – and condemned the attack. "This has been a dark day; it is a day we will never forget," said Lul Hersi, a Somali-American mother who waited outside the Crossroads Mall to find out if her son was a victim. "ISIS does not represent us. It does not represent Islam, and it does not represent Somalis." Mohamoud Mohamed, a spokesman for the Central Minnesota Islamic Center in St. Cloud,
told
CNN at a news conference on Sunday their Muslim community has no ties to any Islamic terrorist groups. "We are the victims of those terrorist groups," he said. "Islam is peace."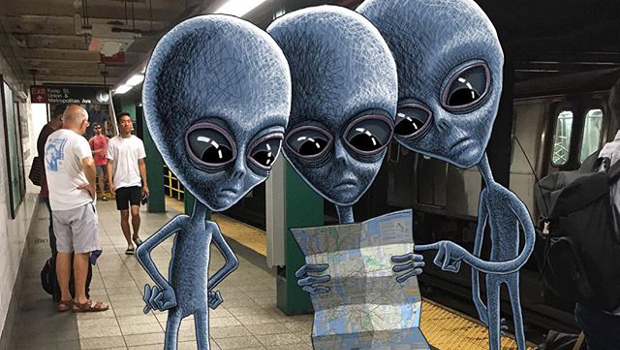 Artist's Subway Doodles Are a Monster-of-a-Hit With Commuters
Large, sometimes-hairy, usually-blue creatures live on and under the streets of New York according to one local artist. Ben Rubin takes pictures with his iPad and then applies his imagination in his ongoing art series called Subway Doodle. "I started sketching on my iPad during my commute just to pass the time,"…
click here to read more
Advertisement