This Man Is Walking Across All 7 Continents With His Dog
Advertisement
Turcich was first inspired to take this long walk after he lost a close friend at the age of 17. "Her death reordered my understanding of the world," he shared on Reddit. "I suddenly saw life as something fragile and fleeting. I needed to make the most of the short time I had."
After completing college and saving up enough money, Turcich set out on his adventure. He began his journey in the United States where he then went to Mexico and Central America. He is currently in South America where he will catch a boat to Antarctica and then fly to Europe. After flying to Europe, he plans to walk through Africa and Asia and then fly to Australia. His last part of the journey will take him back to the West Coast, where he plans to go cross-country back to New Jersey. Turcich found Savannah when he was walking through Texas at an animal shelter. He initially brought her along on the journey for protection, but the pair soon formed a very strong bond.
"After spending nearly every minute of every day with her, she's definitely my best bud," he shared. "She walks every mile with me and always has energy left over at the end of the day." According to
Insider
, he "walks 24 miles and burns 5,000 calories every day."
"When I started I was walking fifteen miles a day and my legs were throbbing and cramping," he explained. "Now I'll do thirty miles some days with stretching at night I'm good to go the next day." Follow the rest of Turcich's adventure on
Reddit
,
Facebook
, and
Instagram
.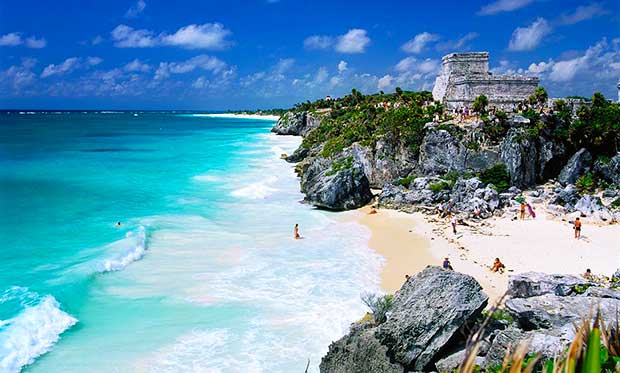 Trip Advisor Reveals Top 10 Travel Destinations On The Rise
On Wednesday, travel site Trip Advisor unveiled its list of the 10 best up-and-coming travel destinations around the world for 2016. Take a look through the 10 slides and Trip Advisor's reasons for why these places are going to be 2016's hottest travel destinations.
click here to read more
Advertisement
Tom Turcich and his dog Savannah are taking one very long walk. In the next five years, Turcich plans to walk with his dog across all seven continents. Currently, he has spent 472 days walking over 6,300 miles in 11 different countries.