Khloe Kardashian: 'People Who Blame Kim for Robbery Are Irresponsible'
Celebrity
| |
Advertisement
Her family were quick to rally around and offer support following the traumatic incident and Khloe, 32, is still shocked by what some people have said about the events – especially those claiming Kim brought it on herself by posting photos of her valuables on the Internet. "That is the most irresponsible accusation. I don't care how little or how much you have, nobody deserves to be violated and robbed and assaulted and traumatized," Kardashian fumed to London's
Evening Standard
. "Kimberly is one of the strongest women I've met. We're not people who sit in sorrow if something bad happens and go, 'Woe is me.' We take these experiences and try to help somebody else." Kardashian herself has opened up about what happened on her family's TV show
Keeping Up with the Kardashians
, previously revealing she "mentally prepped" herself to be raped and killed when when the assailants duct taped her mouth. During the wake of the crime Kardashian also had to deal with her husband Kanye West's breakdown, which was documented on Sunday night's episode of the
E!
show. The rapper was hospitalized for "temporary psychosis" caused by exhaustion and sleep deprivation in November, with Kim seen crying over her husband's health problems. "Why? What's going on?" Kardashian asks in shock while on the phone to her husband during her trip to New York to honor her late father, Robert Kardashian. Starting to cry, the brunette beauty further quizzed: "What's wrong? Don't scare me, please. What's going on?"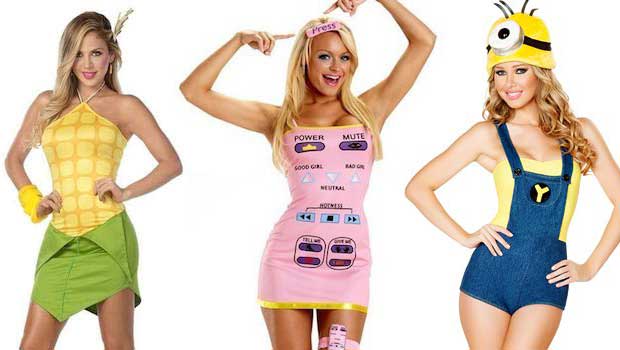 18 Horrible, Unnecessary Sexy Halloween Costume Fails
There's nothing inherently wrong with a sexy Halloween costume. Anyone has the right to wear what they see fit, be it something they make themselves or buy in a store. However there are certain sexy costumes that are just, well, weird. Not because they show skin, but because (like the…
click here to read more
Advertisement
Khloe Kardashian has slammed the theory her sister Kim is to blame for being robbed, because she flashed her jewelry on social media, "irresponsible." Kim, 36, had millions of dollars' worth of jewelry and electronic goods stolen from her apartment in Paris last October when masked men broke in and robbed her at gunpoint.