Kaepernick Vows $1 Million Donation to Community as Other Players Join Anthem Protest
Advertisement
Prior to San Francisco's pre-season game in San Diego against the Chargers, the QB and teammate Eric Reid (who had expressed support for his teammate) met with former Army Green Beret and Seattle Seahawks player Nate Boyer. Earlier in the week, Boyer wrote an open letter disagreeing with the QB's stance, leading Kaepernick to invite him to meet before the game. Kaepernick went into detail about the conversation after the game. "We were talking to him about how can we get the message back on track and not take away from the military, not take away from pride in our country but keep the focus on what the issues really are," said Kaepernick. "As we talked about it, we came up with taking a knee because there are issues that still need to be addressed and there was also a way to show more respect for the men and women that fight for this country."
Thanks for the invite brother… Good talk. Let's just keep moving forward. This is what America should be all about pic.twitter.com/LgjPpjk173

— Nate Boyer (@NateBoyer37) September 2, 2016
In addition to the knee, the QB actively applauded veterans introduced on the field during the game, and stood for a rendition of "God Bless America." After the game, Kaepernick spoke to the media and noted his love of America and desire to help make the country better. He also announced that he planned to donate $1,000,000 to help communities in need. He explained:
"It was something I was thinking about to try to make sure that I'm not just talking about something but I'm actively being involved and actively trying to make a change in these communities and I've been very blessed to be in this position and be able to make the kind of money I do and I have to help these people. I have to help these communities. It's not right that they're not put in the position to succeed or given those opportunities to succeed."
Despite slightly adjusting his stance, Kaepernick was met with cascading boos from San Diego fans, though he received sporadic cheers and support at times. Beyond fans, several other NFL players joined Kaepernick's protest last night. Teammate Reid joined him in taking the pregame knee after their discussion with Boyer. In addition, Seattle Seahawks cornerback Jeremy Lane sat during the anthem before his team's game with the Raiders. Lane said of his protest, "I don't mean no disrespect to anybody, but I'm just standing behind what I believe in."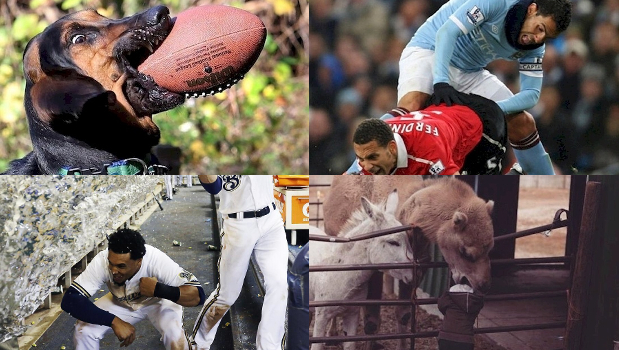 The 20 Most Perfectly Timed Photos Ever Taken
Timing is everything! Sometimes ordinary things are going on and yet the camera goes off. Suddenly, there's something unusual captured, like a boy having a butterfly eye or two football players seemingly in love. And other times there are just weird occurrences that happened to be frozen in time thanks to a…
click here to read more
Advertisement
The Colin Kaepernick saga took another turn Thursday night. The San Francisco 49ers quarterback has been in the news for the past week after it came to light he was sitting during the pregame playing of the national anthem in protest of racial discrimination in the United States. Controversy has swirled around the QB's actions, with many calling his refusal to stand disrespectful to the country's military while others defended his right to free speech. Kaepernick initially stood 100% by his actions, vowing to continue sitting through the anthem until changes were made toward ending racial oppression in the U.S. However Kaepernick slightly changed gears Thursday night, kneeling during the anthem as opposed to simply sitting on the bench.