Julianne Hough 'Blacked Out' as Boyfriend Proposed
Celebrity
| |
Advertisement
But Hough admits she has little recollection of the actual proposal because she "blacked out" as soon as she realized what her boyfriend was doing. She says, "We were at home, romantic and relaxed, which is perfectly very us. We stood on the deck, watching the sun set over the lake and listening to our favorite songs. Not even for a second did I expect that beautiful, serene scene was about to become one of the most meaningful moments of our lives. In fact, I was so taken aback when Brooks got down on one knee I completely blacked out! It was like a rush of heat and a wave of uncontrollable emotion swept right through my body." And the star admits it took a few days for the engagement to really sink in: "It didn't truly hit me until I started saying 'fiance' out loud: 'My fiance loves that song. Let me check my fiance's schedule. Have you met my fiance?' It's crazy!" She continued, "I have to say, being engaged actually does feel different. There is a sense of strength in us, a feeling of being further grounded but most of all, it just makes me really giddy!"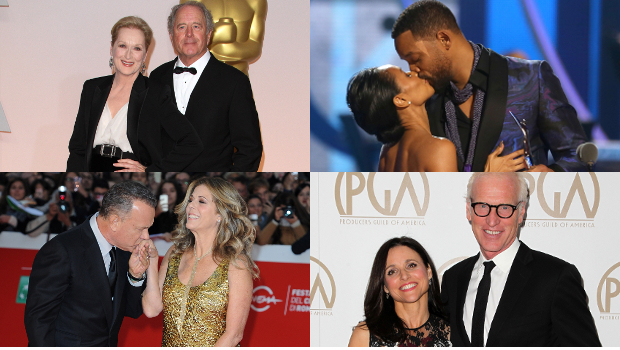 Hollywood's 26 Longest and Most Loving Celebrity Marriages
Hollywood marriages have a reputation for being short and brutal. But many of them are long-lasting testaments to love. Brangelina might not make this list, but plenty of other stars do. Here are Hollywood's longest marriages:
click here to read more
Advertisement
Hockey player Brooks Laich popped the question on August 15 to actress Julianne Hough and the couple announced the big news via Instagram with a endearing photo of the happy couple embracing.