Jeremy Renner Finally Settles Down After Making His Last Home-Flipping Fortune
Lifestyle
| |
Advertisement
It was just last year, Forbes placed the money-making duo of Renner and Winters at #3 on their Biggest Celebrity Home Flippers guide.
The biggest celebrity home flippers, including Ellen DeGeneres, Jennifer Aniston and more. http://t.co/3xsztunbid pic.twitter.com/8dCrZHfV1H

— ForbesLife (@ForbesLife) August 8, 2014
The actor recently told Playboy magazine that he and Winters have been buying and selling homes since 2003, when they were living together in Los Angeles as he filmed S.W.A.T. In fact, they fell into their fortune quite unexpectedly as Renner describes it when he says, "We had a little wine shindig at the house. Our real estate agent was there, and someone who was at the party offered twice what we paid for it." They took the offer, and "turned that money into a bigger house and kept rolling from there." They fixed up their first house, sold it for twice what they paid for it and never looked back – and Winters "flipped" a house for a $17 million in 2013. Renner said, "We kept acquiring bigger structures, and now it's 20-some houses later between the two of us… Mostly we did them together." "Each house has always been our primary residence… We were just investing in the next house we were going to live in. We live in the houses while the work's being done. Most people couldn't do that… It's like going back to camping and caveman days – no electricity, no running water." But now Renner is putting down roots in the 1960s-period home he most recently bought, adding, "This is my home now, and I'm pretty sure this is my last structure. It's something I built and it's a representation of every house I built and pretty much every movie I've done. This house represents a lot of who I am spiritually. This will be my daughter's place in the future."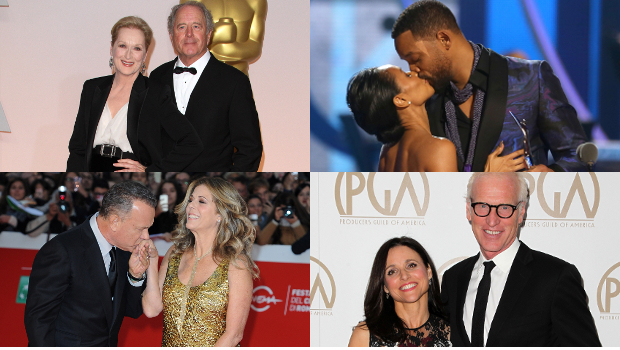 Hollywood's 26 Longest and Most Loving Celebrity Marriages
Hollywood marriages have a reputation for being short and brutal. But many of them are long-lasting testaments to love. Brangelina might not make this list, but plenty of other stars do. Here are Hollywood's longest marriages:
click here to read more
Advertisement
Jeremy Renner, the star of The Avengers, has sold the property for $4.3 million, according to reports, and will share the profits with his longtime friend Kristopher Winters, who invested in the place and helped Renner renovate it.