Japanese Prime Minister Appears as Mario to Hype 2020 Tokyo Olympics
Advertisement
Japan's prime minister becoming Mario for #Tokyo2020 ?? pic.twitter.com/QiBiw2I1DP

— Kris Lane (@krislane) August 22, 2016
The Tokyo games initially presented a video displaying Japanese athletes and cultural icons in Tokyo. As seen above, the video takes a turn when Abe appears and realizes he's going to be "late" in arriving to Rio. The PM then morphs into a computer generated Mario who enters one of his trademark transportation pipes from the classic Nintendo game. Back in the actual stadium, Abe himself emerged from a physical version of the pipe dressed in a full Mario costume before revealing himself.
Best entrance for a Prime Minister ever. Shinzo Abe just climbed out a drain pipe dressed as Mario!!! #Rio2016 pic.twitter.com/1BfzV7q4Cc

— Lucky Tran (@luckytran) August 22, 2016
Shinzo Abe turned into Mario and popped up in Rio via a plumbing pipe. With the help of Doraemon. Japan is already winning #Olympics ?

— Jan Villalon (@jan_villalon) August 22, 2016
Japanese Prime Minsiter Shinzo Abe just arrived at the Rio stadium dressed as Mario. The 2020 Tokyo Games are already better than Rio.

— Mark Humphries (@markhumphries) August 22, 2016
The stunt was met with wide acclaim from Twitter. Those wondering if Abe will make an encore as the famous Nintendo plumber, perhaps with brother Luigi by his side, need to wait until the Tokyo Olympics kick off in July of 2020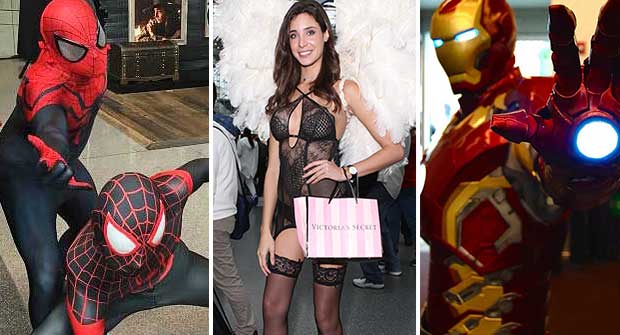 Fans Turn Heroes: The Very Best Cosplay From New York Comic Con 2016
New York Comic Con has come and gone and as every year, comics, TV, video game, and fans of everything nerd culture turn the metropolis figuratively into their very own Gotham, Hell's Kitchen, or, we guess, Metropolis. As always, these fans ramp up their excitement to "11" with finely detailed and spot-on…
click here to read more
Advertisement
For the past several Olympics, it's become commonplace for the closing ceremonies to feature representatives from the next scheduled games taking an active role as they're handed the reigns of Olympic host. Usually this entails a video package or cultural demonstration to display how their country was preparing for the games. With Tokyo preparing to host the 2020 Summer Olympics, it made sense for Japanese Prime Minister Shinzo Abe to be involved in the Rio ceremony. However, no one was expecting full Super Mario cosplay from the politician.