This Little Girl Had the Best Reaction After Accidentally Walking Across Wet Concrete
Advertisement
The adorable 2-year-old managed to walk right through the wet concrete. However, when she got to the middle, she couldn't figure out what to do. Porter found her just as she was deciding, allowing for a very funny moment. "
I looked inside and about 25 feet away
from me I see this child standing dead center, and she had a look on her face that was priceless," Porter told
Today
. "She didn't know whether to back up or move forward." Along with his construction company, Porter volunteers on the local fire and rescue team. While he was pouring the concrete, he got a call about a car accident and had to leave to go and help out. He later returned to finish the job, filling the Millaway's in on the details. As the adults were talking, Izzadora Millaway snuck away. The doors in the house are currently off of the hinges due to the remodeling, allowing the 2-year-old to go right through the wet concrete. "When I saw her, I said, 'Oh my God,"' Porter told
Today
. "I told her to stand right there. Her parents looked like they were going to get irate, but it was just funny." Porter had only pored the wet concrete about 45 minutes earlier when he found Izzadora Millaway. Luckily, he thought the whole situation was funny and didn't seem to get angry. "We were kind of taken aback by the whole situations, and we figured Jonathan was going to be extremely irritated because they were working hard, but it was comical," Sara Millaway, Izzadora's mom, told
Today
. Porter couldn't resist taking a few photos before he helped Izzadora Millaway clean up the messy situation. He then set the concrete again over the floor, leaving a small section of footprints in the corner for the family to remember the humorous incident by. Hopefully, the 2-year-old has learned from her mistakes and won't go exploring in the wet concrete again. "
It was just a joy to see the young lady
in the concrete and smiling. And we're able to laugh at the picture," Porter told
Inside Edition.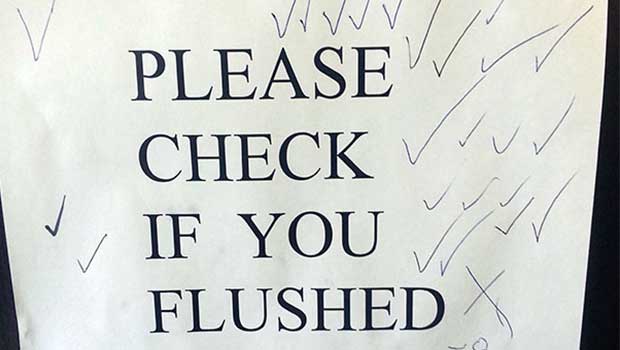 Passive Aggressive Office Notes That Are Too Funny to Ignore
When you really think about it, you probably spend more time with your co-workers than most of your friends and family. With all of that time spent together every single week, you are bound to get on each other's nerves. Problems spring up all of the time in an office:…
click here to read more
Advertisement
Talk about being stuck in a sticky situation! Jonathan Porter is the owner of a construction company and has seen his fair share of crazy moments. Last week, he witnessed his craziest moment yet when Izzadora Millaway got herself stuck in wet concrete.