The Internet Is Losing Its Mind Over This Disappearing Woman
Advertisement
Watch: The strange video is turning heads all over the Internet, with millions of shares and theories as to the woman's disappearance. She's blonde, so perhaps she's a modern-day Alice? Lewis Carroll hasn't returned our email. Maybe she fell into a rift in the space-time continuum? Maybe she's simply moving parallel behind the other woman? Probably the latter, but we really hope the former. Either way, her 15 minutes of Internet fame have given us something to pass the time this Friday afternoon.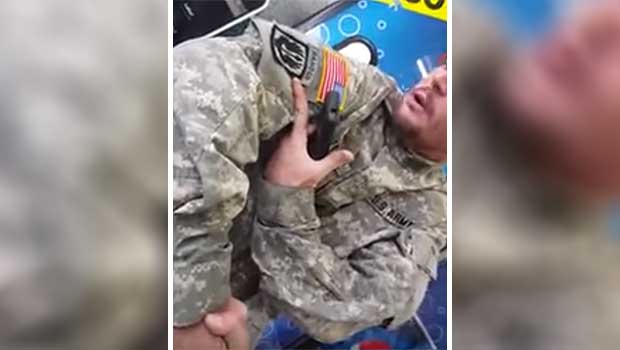 Watch Imposters Get Owned in These Jawdropping 'Stolen Valor' Videos
"Stolen valor" is a term used to describe those who fraudulently wear military uniforms and/or medals, or claim service they didn't give. Over the long history of warfare, impersonation of military men and women has been a hot-button issue. Whether it's civilians fabricating military records, or actual servicemen embellishing their accomplishments, "stolen…
click here to read more
Advertisement
In case you needed proof magic is real, here's further evidence to support your theory. Well, we can only assume magic is real after seeing this video of a woman apparently disappearing during a live TV interview. In the video, a man is being interviewed for a news broadcast in what looks to be an airport. Behind him, a blonde-haired woman is standing with her arms folded. Another woman approaches and says something to the blonde woman. As the second woman moves in front of her, the blonde woman vanishes right before our eyes.