Firefighter's Kids Give Him Hilarious Obituary
Advertisement
"William Ziegler escaped this mortal realm on Friday, July 29, 2016 at the age of 69," the obit
says
. "We think he did it on purpose to avoid having to make a decision in the pending presidential election." According to
Today
, Ziegler would often send his kids funny or interesting obituaries. "He'd send us a picture or link and say, 'I wonder what the story behind this one is,' or 'This sounded like a hell of a guy,'" his oldest child Sharah Currier told
Today
. Naturally, Currier and her siblings decided to help their old man conjure a few laughs in his own obituary. "William volunteered for service in the United States Navy at the ripe old age of 17 and immediately realized he didn't much enjoy being bossed around. He only stuck it out for one war," they wrote. Ziegler then became a firefighter and worked for 25 years before "he suddenly realized that running away from burning buildings made more sense than running toward them." For Ziegler, humor was always important. Currier told
Today
that after the terrorist attacks on 9/11, his father saw a lack of humor in his co-workers, but he wanted to change that. "Even in the darkest of times he thought humor was important,"she said. "It functions, in a way, like a canary in a coal mine: We know we're in real trouble when we can't find something to laugh about." Currier also said that she thinks her father would have loved the obituary she and her siblings wrote him. "If anything, he'd be surprised at all that we left out…This has been our last gift to him, something that has honored his memory in a way that he would have liked. We like to think this is an obituary that he would have forwarded to us," she said. Read the entire obituary below:
"William Ziegler escaped this mortal realm on Friday, July 29, 2016 at the age of 69. We think he did it on purpose to avoid having to make a decision in the pending presidential election. He leaves behind four children, five grand- children, and the potted meat industry, for which he was an unofficial spokesman until dietary restrictions forced him to eat real food. William volunteered for service in the United States Navy at the ripe old age of 17 and immediately realized he didn't much enjoy being bossed around. He only stuck it out for one war. Before his discharge, however, the government exchanged numerous ribbons and medals for various honorable acts. Upon his return to the City of New Orleans in 1971, thinking it best to keep an eye on him, government officials hired William as a fireman. After twenty-five years, he suddenly realized that running away from burning buildings made more sense than running toward them. He promptly retired. Looking back, William stated that there was no better group of morons and mental patients than those he had the privilege of serving with (except Bob, he never liked you, Bob). Following his wishes, there will not be a service, but well-wishers are encouraged to write a note of farewell on a Schaefer Light beer can and drink it in his honor. He was never one for sentiment or religiosity, but he wanted you to know that if he owes you a beer, and if you can find him in Heaven, he will gladly allow you to buy him another. He can likely be found forwarding tasteless internet jokes (check your spam folder, but don't open these at work). Expect to find an alcoholic dog named Judge passed out at his feet. Unlike previous times, this is not a ploy to avoid creditors or old girlfriends. He assures us that he is gone. He will be greatly missed."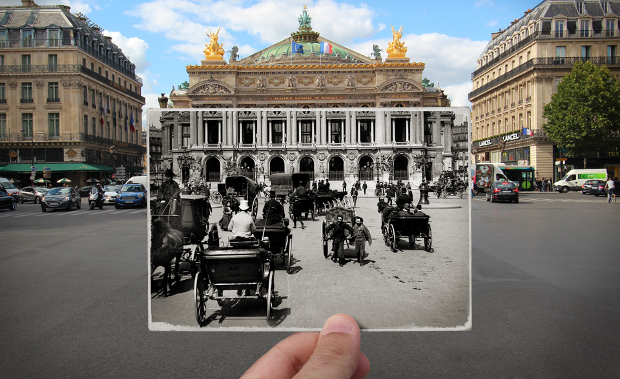 Take a Tour of Paris as Photographer Merges Past With Present
It's probably the closest thing we will ever have to time travel - taking photos from the past and lining them up with contemporary settings. Fortunately, that's exactly what Parigramme, a French publishing house, also thinks. The company asked photographer Julien Knez to do a photo series depicting Parisian history from 1871…
click here to read more
Advertisement
No dead person has ever been so hilarious. Firefighter William Ziegler recently passed away. However, his children saw to it that he still crack people up from beyond the grave – through his obituary.