Family Celebrates All the Holidays After Learning Father Is Being Deployed to Afghanistan
Advertisement
However, Clendennin thought of a pretty awesome idea and was able to surprise father Alby, who is a logistician for the Air Force, and celebrate all of the holidays in just one weekend! First up was Halloween where the entire family dressed up for some trick-or-treating fun. Next up was the big birthday celebration. The whole family pitched in and bought her father a MacBook so they can stay in touch while he is away. After the birthday celebration, the family made sure to waste no time and got right to Thanksgiving. After a full meal of turkey, the family went to sleep only to find out that Santa had paid them a visit over night. Clendennin's father got a heated blanket from Mr. Claus to keep him warm on those cold desert nights while he is away. Clendennin posted the celebration photos on Twitter where they were quick to go viral. The special celebration has been retweeted over 25,000 times (as of time of press).
My dad just got deployed to Afghanistan, so this weekend we celebrated every holiday he's missing ☺️❤️ pic.twitter.com/7qIZqa6Z48

— olivia ッ (@OliviaNoraC) September 21, 2016
"The fact that my tweet is spreading so fast really warms my heart, and my mom thinks it's exciting because people found an interest in what we did for my dad," Clendennin shared with
Distractify
. What a great send off!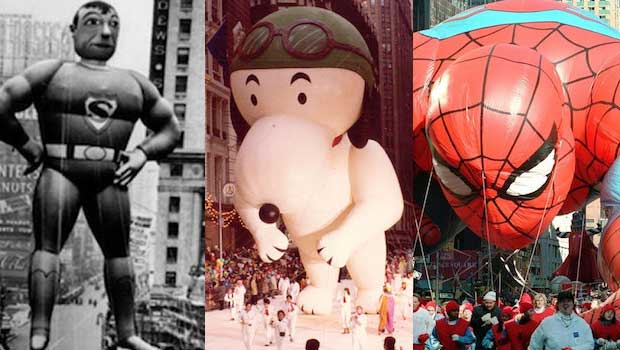 Macy's Thanksgiving Day Parade Balloons Through the Years
The Macy's Thanksgiving Day Parade has become an American cultural touchstone in the nine decades since its debut. Beginning early morning on Thanksgiving, it's become a right of passage for kids and a Holiday tradition for their parents. This reputation has only been bolstered by the Parade's many appearances in media,…
click here to read more
Advertisement
Olivia Clendennin and her family proved it is never too early to celebrate Christmas. When Clendennin found out that her father was going to be deployed to Afghanistan, she was upset that he would be missing Halloween, Thanksgiving, Christmas, and her father's own birthday.