Ed Sheeran Fuels New Romance Rumors With Las Vegas Trip
Celebrity
| |
Advertisement
They attended Sheeran's first baseball game as the New York Mets faced off against the Philadelphia Phillies at Citi Field and then jetted off to Las Vegas for a long Labor Day weekend party with pal Calvin Harris at his Wet Republic club residency. Harris, who is dating Sheeran's close friend and former tour mate Taylor Swift, even shared a photo of himself with the loved-up pair at the pool party. The Scottish DJ captioned the snap, "What a crew at Wet Republic today."
Sheeran, who has yet to comment on the relationship speculation, has been single since revealing he had split from former girlfriend Athina Andrelos earlier this year. He was subsequently linked to Irish model Louise Johnston, but he laughed off the claims in early July, confessing his love life is "actually non-existent." Blaming his single status on his busy touring schedule, he added, "My relationship [with Andrelos] ended and then the day after it ended I was in the Middle East, Asia, South America, New Zealand – I was just gone and in my mind I had no time to settle with it. So I was just working, working, working… So yeah I'm still kind of in that space, I'm still in my working space. I haven't really had time to sit back and re-evaluate personal life, because I don't really have a personal life." Sheeran and Seaborn both attended Thomas Mills High School in Suffolk, England.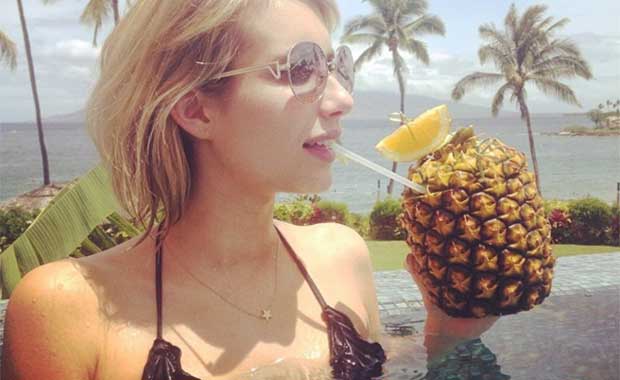 Celebrity Vacations On Instagram
Our culture is crazy for celebrities, and we love to watch our favorite star's every move. The Hollywood lifestyle is like a roller-coaster ride. We cheer fan favorites on when they win a Grammy or Oscar, worry about them when their personal life takes a bad turn, and cheer again…
click here to read more
Advertisement
British pop star Ed Sheeran fueled rumors of a new romance after jetting to Las Vegas to party with an old high school friend, days after the two were photographed together in New York City. The "Thinking Out Loud" hit-maker has been linked to fellow Brit Cherry Seaborn in recent weeks after they were spotted together on numerous occasions in the Big Apple where Seaborn lives.