Don Cheadle Blasts Donald Trump Over Dwyane Wade Comments
Advertisement
In a grief-stricken tweet, the NBA athlete, who is married to actress Gabrielle Union, wrote: "My cousin was killed today in Chicago. Another act of senseless gun violence. 4 kids lost their mom for NO REASON. Unreal. #EnoughIsEnough." Republican presidential candidate Donald Trump decided to use the tragedy as an opportunity to call attention to his political campaign, taking to his own Twitter account on Saturday morning to comment on Wade's post. "Dwayne Wade's cousin was just shot and killed walking her baby in Chicago. Just what I have been saying. African-Americans will VOTE TRUMP!"
.@jbarro Actually neither of those tweets was by Trump. His original, now deleted, misspelled Dwyane Wade's name. pic.twitter.com/vEbXk7XYuG

— Keith Olbermann (@KeithOlbermann) August 27, 2016
In addition to misspelling Wade's name, Trump neglected to offer his condolences to the Chicago Bulls star and his family, prompting actor Don Cheadle to criticize the billionaire businessman's actions.
You are truly a POS https://t.co/cyTwxgxwDh

— Don Cheadle (@DonCheadle) August 27, 2016
"You are truly a POS (piece of s**t)," the
Crash
star tweeted, before launching another incendiary diss against the Republican nominee, adding, "Sorry. I misspelled 'die in a grease fire.'" Cheadle wasn't the only celebrity who was incensed by the way Trump handled the tragedy. Actress Holly Robinson Peete was left stunned after reading the 70-year-old's tweet. "I am just…I am so offended by this I can barely breathe," she remarked. "My prayers and condolences go out to the Wade family." Former Destiny's Child singer Michelle Williams was also left unimpressed with Trump's statement, noting: "@realDonaldTrump An absolute disgrace." It's the latest scandal to dog Trump's campaign. Throughout his bid to become the next U.S. president, Trump has divided America with his controversial remarks about immigrants, Muslims, women and his Democratic opponent Hillary Clinton.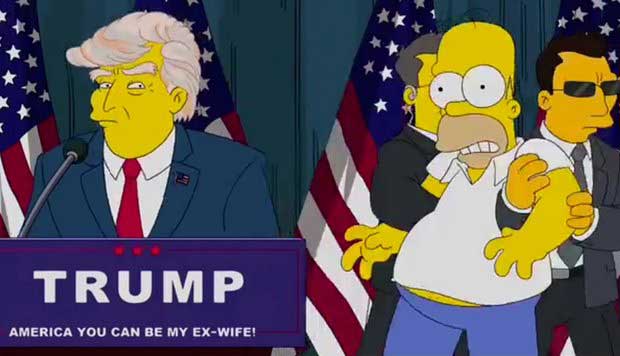 All the Times 'The Simpsons' Correctly Predicted the Future
The Simpsons has been some of the best satirical programs found on television over the last 28 years. The Emmy-winning animated series is the longest-running sitcom in history, as well as the longest-running scripted show in American TV history. Through its nearly three decades on the air, the show has become…
click here to read more
Advertisement
Actor Don Cheadle has attacked U.S. presidential nominee Donald Trump after he tried to politicize the shooting death of sportsman Dwyane Wade's cousin in Chicago, Illinois. On Friday, basketball player Wade revealed his cousin Nykea Aldridge had been fatally wounded while pushing a baby stroller down the street.