Demi Lovato Goes Undercover as Cab Driver for Lyft
Advertisement
During her stint as a Lyft driver, Lovato picked up unsuspecting passengers and introduced herself as "Samantha," telling them she was an aspiring singer who was desperately trying to break into the music industry. "I've actually been traveling the country with my ex-boyfriend's brother because he sings, too," Lovato told one female passenger. "And so we really want to kind of get our names out there at open mic nights and, like, whatever we can do." The funny video, published on
People,
also features the singer, as Samantha, poking fun at Lovato's musical talent, after one woman compliments a recent single. "I like that "Confident" song. That's a jam," she commented, prompting Lovato to reply, "I like that one, but it, like, sounds like she's screaming. Selena (Gomez) is so much more talented. She's got such a better voice (
sic
)." At the end of each ride, Lovato took off her sunglasses to reveal her true identity, leaving her passengers in awe. Lovato briefly dated Nick Jonas's brother Joe Jonas in 2010.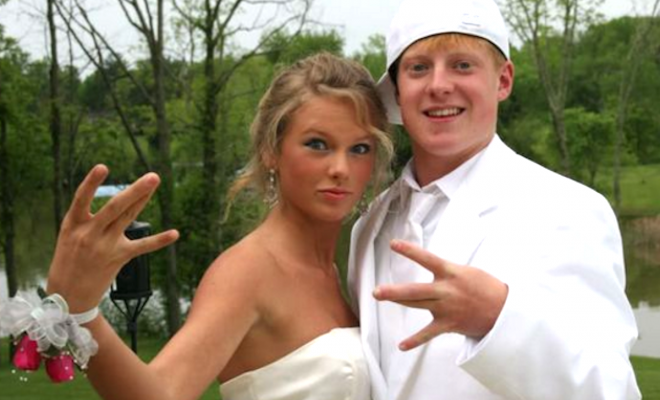 Celebrity Prom Photos You Won't Believe Are Real
These celebrities' crowns and corsages may have ruled the school, but these embarrassing photos of their prom nights are totally ruling the Internet. Even Blake Lively had it rough. Ahh stars, they are just like us! Let's take a look at some seriously awkward prom pictures of Taylor Swift, Ellen DeGeneres,…
click here to read more
Advertisement
Pop star Demi Lovato recently traded in the microphone for the steering wheel to go undercover as a cab driver in Denver, Colorado. The "Skyscraper" hitmaker surprised fans as part of a funny promotional video series for car service Lyft, and hopped into the driver's seat ahead of her August gig in Denver as part of her joint Future Now Tour with Nick Jonas.