Critics Take Aim as Mary J. Blige's Awkward Chat With Hillary Clinton Airs
Politics
| |
Advertisement
The 411 With Mary J. Blige
show online on Tuesday, a day after Clinton took on rival presidential candidate Donald Trump in their first debate.
The "interview special" will air in full on Apple Music on Friday, and critics are already mocking the "Family Affair" singer after watching the trailer, during which Blige's "intimate conversation" with Clinton tackles race. The R&B icon actually sings one of her questions to embarrassed Clinton, who doesn't seem to know where to look. Blige crooned, "If an officer stops you always be polite, and never ever run away. Promise momma you'll keep your hands inside. Is it a gun? Is it a knife? Is it a wallet? This is your life. It ain't no secret. It ain't no secret, no secret my friend. You can get killed just for living in your American skin." Twitter users quickly lashed out against the clip after it debuted, with one Apple follower stating: "If Trump wins it's absolutely Mary J Blige's fault", while another added: "mary j blige gotta moderate the next debate. HAS TO."
If Trump wins it's absolutely Mary J Blige's fault

— #BeatOKST #BeatMinny (@HumbleTeej) September 27, 2016
mary j blige gotta moderate the next debate. HAS TO

— Desus Nice (@desusnice) September 27, 2016
Meanwhile, Blige has far more important personal matters to attend to after filing new legal documents urging the judge overseeing her divorce from estranged husband Kendu Isaacs to sign off on her pre-nuptial agreement, so she can make sure it's iron-clad, leaving the music executive no room to cash in on her fortune. Isaacs' lawyer insists that the contract, drawn up in December of 2003, is "immensely invalid, unenforceable and unconscionable." Blige filed for divorce this past July and she has already asked the judge to block Isaacs' bid for spousal support, according to TMZ.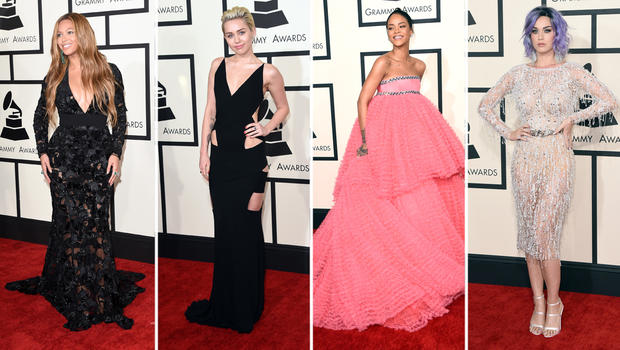 Must-See 2015 Grammy Awards Red Carpet Looks
The 2016 Grammy Awards will be held on February 15th and there is much anticipation to see what the biggest artists will be wearing. In the midst of award season, here is a recap of the must-see looks from the 2015 Grammy Awards!
click here to read more
Advertisement
Mary J. Blige's chat show career hasn't started well – an awkward new interview clip with presidential hopeful Hillary Clinton has earned her a large group of internet critics. Apple bosses posted a teaser for the chat the musician had with the former First Lady as part of her