This Couple Rescued Seven Different Animals and They Are All One Happy Family
Advertisement
These makeshift siblings (two pit bulls, two terriers, a cat, and two ducks) complete the family of Kasey Boggs and her husband, a pair of good samaritans that have been rescuing animals for over a decade. The Boggs enjoy taking their team out on adventures, dressing them up and taking pictures to post on their
Instagram
, which has 32,000 followers and counting all lining up to enjoy the pets' shenanigans. Check out some of those photos below: From left to right: Jake, Gertrude, Donald, Rose, Roxy, Edith, and Mia. Rose (a rescue from a neighborhood notorious for dog-fighting), Jake (who spent his first few months locked in a crate by an owner who did not want him), Donald, and Gertrude (two adopted ducklings) just chilling out. Roxy (the one who started it all — a pet-store pickup who Karen nursed back to health from a missing hip-joint), Mia (an adventurous, tail-less cat), and Edith (a rescue who suffered greatly before the Boggs came along) working on their advertising careers. Sometimes you just need some time to relax in the pool…
Minion socks are never far in the Boggs' household. That's a lot of patriotism in one picture. Jake and Rose are obviously the romantics of the brood. Wait…who is going to drive? Stay awesome, Boggs family!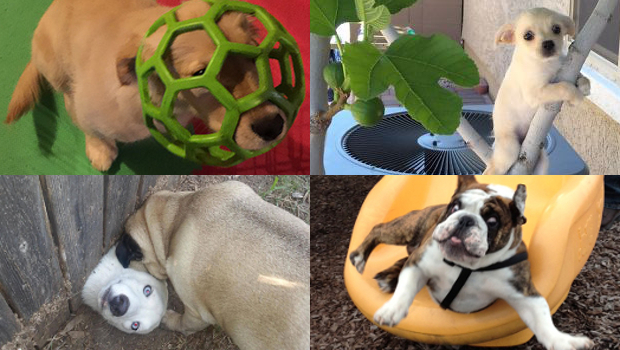 18 Silly Dogs Who Made Some Truly Terrible Life Decisions
We are no different from our canine companions because they also tend to just go for it and then immediately regret everything. Sometimes puppies are curious and get themselves stuck in toys, trees or toilets. Other times doggies aim for some fun on a slide or snowy hill, to find themselves tumbling down…
click here to read more
Advertisement
Dogs and cats have been set up as mortal enemies in movies and television, with dogs playing the part of man's best friend, and cats being the sinister villain lying in wait. Throw some ducks into that equation and, well, it is normal to think chaos would ensue. Not in this family. Meet Roxy, Edith, Mia, Rose, Jake, Gertrude, and Donald.