Carrie Fisher and Debbie Reynolds Remembered in Public Memorial Service
Advertisement
Event highlights included an image of Fisher's birth certificate being transforming into that of Princess Leia's, then again into a series of home movies and clips of her film and TV appearances. The footage was accompanied by composer John Williams'
Star Wars
theme for Princess Leia. One of the most moving moments of the service was when beloved
Star Wars
robot R2-D2 moved across the stage as if lost, while emitting its trademark beeping sound.
Today send them off with the light..this is gonna be a tuff 1..@carrieffisher @DebbieReynolds1 in our ❤❤s & souls 4ever This is how I see it pic.twitter.com/Vp2aE6T7BA

— Joely Fisher (@MsJoelyFisher) March 25, 2017
There was a photo montage of Fisher's life too, with British singer James Blunt's massive 2005 hit
You're Beautiful
playing during it. Blunt was a close friend of Fisher's and she acted as a godmother to his son. After the montage was completed, with barely a dry eye in the house, Todd Fisher revealed that Blunt and Carrie Fisher were "deeply connected" and that the musician had written the track at Carrie Fisher's house.
Handed this @ #CarrieFisher & #DebbieReynolds memorial. PLEASE consider contributing to this very worthy cause. pic.twitter.com/hRiwg13Zs3

— Jen (@GRRRLISME) March 25, 2017
"On the piano in her bathroom, like we all have," he laughed. Comedian Dan Aykroyd, who was engaged to Fisher before the couple split in 1980, had the crowd laughing too, when he shared a story about performing the Heimlich maneuver when she choked on a brussels sprout.
Then there was the time she promised if I went 1st-she'd heckle my funeral. Fiercely funny-I know she would also like us all to laugh today. pic.twitter.com/K2iQtA57W4

— Mark Hamill (@HamillHimself) March 25, 2017
Then the mood turned somber again when acclaimed male choir, The Gay Men's Chorus of Los Angeles, performed Cyndi Lauper's 1986 hit
True Colors
. The Movie Channel host Ben Mankiewicz highlighted Fisher's fine-tuned "buls**t detector" and local teenage dancers performed a routine to "Singin' in the Rain," the iconic song from the 1952 musical of the same name, which made Reynolds famous. "I think Debbie would have liked that," Todd Fisher noted. He also introduced Fisher's beloved pets including French bulldog Gary, who traveled the world with his famous mom, and is now being looked after by Fisher's daughter,
Scream Queens
star Billie Lourd. Lourd did not attend the service, though she had initially planned to. Fisher's parrot Archie, a gift from music business legend David Geffen was also in attendance.
We Remember Them…
As long as we live, they too shall live.
For they are a part of us all. pic.twitter.com/D3obeK00PH

— Mark Hamill (@HamillHimself) March 25, 2017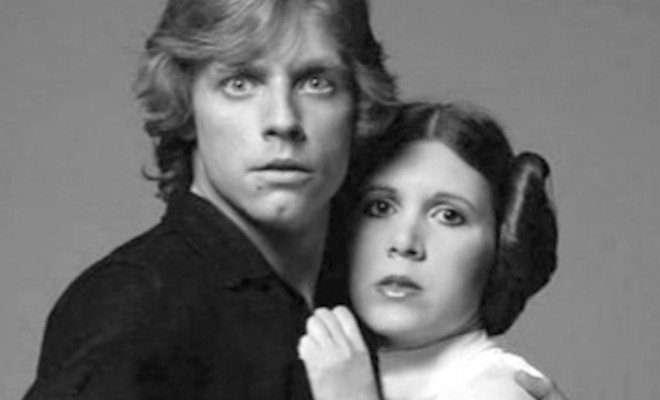 What These Star Wars Characters Look Like Now Is Incredible
Over the next several years, it's going to be hard to escape the marketing onslaught of Disney and LucasFilm's new Star Wars sequels, prequels, and standalones. New characters are being introduced to the next generation of diehard Wars fans, but they all relate and fit into the classic mythos of the…
click here to read more
Advertisement
Carrie Fisher and her mother Debbie Reynolds were remembered with laughs and tears during a public memorial service held in Los Angeles on Saturday. Three months after the mother-daughter duo died within 24 hours of each other on December 27 and 28 December, respectively, they were memorialized at a service hosted by Reynolds' son Todd Fisher at Hollywood's Forest Lawn Memorial Park.