Britain Plans to Build a 13-Foot High, £2 Million Wall Hoping to Keep Migrants Out
Advertisement
However, many are questioning if the wall is the right answer to the problem. "The wall was a 'scandalous waste of taxpayers' cash' that would simply shift problems farther down the road," Kate Gibbs of the Road Haulage Association shared with
Daily Mail
. She continued, "Money would be much better spent on boosting security along the approach roads. This is being called the Great Wall of Calais but what good will it do? We are telling our drivers not to stop within 150 miles of Calais so they are not targeted by migrants." Immigration minister Robert Goodwill assured the Commons home affairs committee that the wall will be the solution to combat the problem and keep people safe. Currently, "one migrant is caught trying to sneak into the U.K. every six minutes – with 84,088 detentions at our borders last year," shared
Daily Mail
. Many migrants are hoping to enter the U.K. for better jobs, benefits, and better accommodation, however violence is increasing with "people-smuggling gangs." "The security that we are putting in at the port is being stepped up with better equipment," Goodwill explained. "We are going to start building this big new wall very soon as part of the £17 million package we are doing with the French. We've done the fence, now we are doing a wall. There is still more to do. We have also invested in space for 200 lorries at Calais so that they have somewhere safe to wait." Construction on the wall is expected to begin soon and will hopefully be done by the end of the year.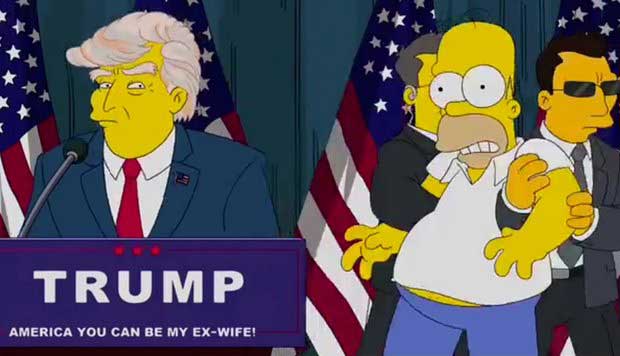 All the Times 'The Simpsons' Correctly Predicted the Future
The Simpsons has been some of the best satirical programs found on television over the last 28 years. The Emmy-winning animated series is the longest-running sitcom in history, as well as the longest-running scripted show in American TV history. Through its nearly three decades on the air, the show has become…
click here to read more
Advertisement
In an attempt to keep migrants from sneaking across the English Channel, Britain is planning to build a huge wall in Calais. The wall will stretch nearly a mile long and will cost the UK taxpayers about £2 million ($2.67 million). Currently there is a fence attempting to stop illegal immigrants from entering, however it is not doing a great job. The wall will be 13-feet high and will be made out of concrete.