This Dad Came up With a Brilliant Response to Help His Daughter Deal With Her 'Accident'
Advertisement
"
Honestly, I knew she was mortified,
but I thought if I could make her laugh everything would be fine," Sowards told the Huffington Post. Before he left the house, Ben Sowards splashed some water on his pants to match his daughter. When Sowards arrived at the school, he asked his Valerie to borrow her backpack so he could cover up his "accident." "
She looked at me with just the biggest incredulity,
" Sowards told BuzzFeed. "She was laughing about it. It was so funny." Sowards' older daughter, Lucinda, tweeted out a picture of her dad's genius idea and the tweet quickly went viral. People all over the internet loved his idea!
My little sis had an accident today at kindergarten & this is how my dad left to pick her up so she wouldn't feel so sad/embarrassed ??❤️ pic.twitter.com/veHMFO4QHr

— Lucinda Sowards (@LucindaSowards) April 14, 2017
"I think that people can really relate to this because they see that it's genuine and feel like they would do the same and can relate to that kind of love," Lucinda Sowards told Your Daily Dish regarding the viral photo. "I think it's also refreshing to see something positive on the news." Lucinda Sowards explained that this isn't the first time her father has used humor to make his kids feel better. About four years ago, Lucinda fell ice skating and got a black eye. "I got a massive black eye and he FaceTimed me and had vividly painted a black eye that matched mine on himself," Lucinda told The Huffington Post. For Ben Sowards, making others laugh and feel included is just part of his everyday life. Ben
Sowards and his wife are foster care advocates and just increased their growing family by adopting four more foster children. "
Foster care is so important
— it's been a really good experience for me, as the oldest of one of 11," Lucinda Sowards told California television station KXTV. "I hope I can be there for these kids and provide the home that they need." Lucinda Sowards hopes the viral moment will show others just how important it is to have a strong family bond. "If there's something I want people to take away from this story is the importance of families is critical," Lucinda Sowards told Your Daily Dish. "There's lots of children who don't have a place to go home and they're in the foster system — for the people who want to be the kind parent my father is, I would hope they'd consider foster care because there is an ever growing need for them." She continued, "We just adopted 4 foster children who've been living with us for a while now and to give them permanency and a place where they're always loved has been one of the best experiences of my life."
I am pleased to introduce the newest members of the Sowards Family ❤️ #adoption #fostercare #itsaboutlove pic.twitter.com/sR1TIxpMzk

— Lucinda Sowards (@LucindaSowards) April 18, 2017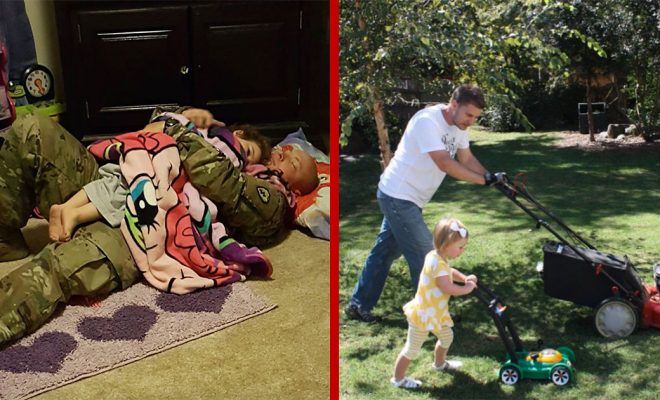 13 Dads Who Remind Us What Parenting Is All About
Being a dad is like having a full time job. As a parent, you have to be ready at all times to make sure that your child is happy and healthy. A few dad compare "dad work" to being a babysitter — but it is not — it's called being a parent.…
click here to read more
Advertisement
Sometimes laughter can make the most embarrassing moments go away. Just ask Utah dad Ben Sowards. When Ben Sowards got a phone call from his wife sharing that his 6-year-old daughter, Valerie, had "an accident" at school and needed to be picked up, he knew he needed a way to make her feel better instantly.