11-Year-Old Boy With Autism Wins World Taekwondo Title
Advertisement
After his diagnosis, Fineshriber underwent several forms of therapy to help improve his communication and social skills. However, he remained very isolated. "It hurt seeing Ethan have no friends, no birthday invitations, and no special people in his life, other than family," his mother, Mara Fineshriber, wrote for
Autism Speaks
. Three years ago, Mrs. Fineshriber decided to get her son involved in group sports, to get him to interact more, and drove him to the local taekwondo school. After some initial reluctance, he discovered he enjoyed the sport: "For the first day, it was just learning those new moves, and it started getting me interested, like 'I can learn this stuff and I can memorize this stuff. And then I can do more of it,'" Fineshriber told
Fox 13 News
. It wasn't long before he revealed a natural talent for martial arts. "Ethan had an immediate affinity for the sport and it caused those around him to want to make friends," writes his mother. "He finally fit in. He excelled. He began to speak more. He became more coordinated. And then… he began to win!" After winning a national competition, Fineshriber set out to win a world title. After narrowly losing and taking second place in 2015, he accomplished his goal this year, after only three years of training. His mother told Fox News 13 that, after Fineshriber obtained a perfect score, his friends rushed the ring and hoisted him up on their shoulders – another great accomplishment for someone who once struggled to make friends. Thanks to martial arts, Fineshriber is now a popular, well-adjusted boy. Autism no longer prevents him from interacting and socializing. "Most people who meet him have no idea he has autism," writes his mother. "Those that do, are in awe of how far he has come! He's learned a lot and loves to give back. He enjoys teaching martial arts and loves his many friends more than words can convey." It sounds like taekwondo helped Fineshriber win at every level.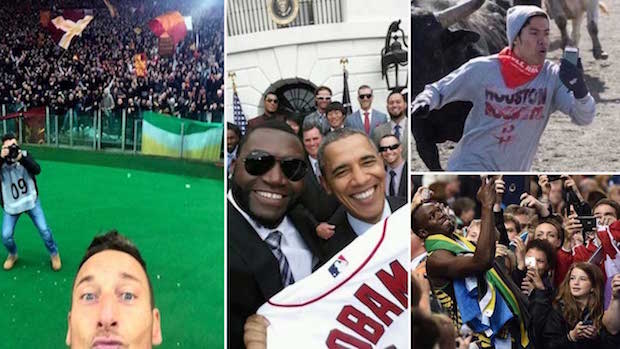 The Best Sports Selfies Ever Taken
As smartphones have become integral to everyday life, the act of taking selfies has become more and more prominent everywhere, including sporting events. Selfies aren't just limited to fans though. Many of the world's biggest athletes have used selfies shared on social media to celebrate victory, promote themselves, or just…
click here to read more
Advertisement
One of the most difficult things autistic children have to overcome is the isolation that comes with the condition. In many ways, autism makes it harder for kids to socialize and take part in group activities. Ethan Fineshriber, from Sandy, Utah, struggled with these issues after he was diagnosed at the age of three. Now 11 years old, not only has he found success and friends as a martial artist, he has officially become one of the best in the world, winning first place in the American Taekwondo Association championship earlier this month.